About the Series: Judgement of the Six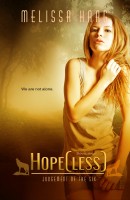 Every millennia six uniquely gifted women are born to keep the balance between the races. While humans think they are alone, the werewolves are barely surviving. Their numbers were cut long ago by an event they no longer remember. An event start by a third race that remains hidden, biding their time until the war between the three can start anew.

The time for Judgement has begun again.
Reviews
Review by: Wendy Strain on Jan. 07, 2015 :
Melissa Haag is a masterful storyteller creating an interesting world that seems both real and unreal at once in Hope(less). The pages almost turn on their own as the reader gets lost in Gabby's world and concerned about what will happen next and how she will retain her sense of independence in spite of the various attempts by others to direct where she will go and what she will do. Rather than being the typical control issues, Gabby's directors claim to only have her safety in mind, but whether she can trust what they say or not is another matter. Eventually, it will be up to Gabby to discover the meaning behind the sparks she sees, what they have to do with her strange ability to draw men to her whether she wants their attention or not, and how that might figure into the werewolf society. There's more detail in the review on my blog, but I'm excited that the next three books of this six book series are already available!
(review of free book)
Review by: Becca E on Nov. 04, 2013 :
I loved this book,it is a great start of a new werewolf series.The author has a polished style,the action is great, and the premise is unique
(review of free book)
Review by: Sophie Eloy on Sep. 10, 2013 :
I got the book for free and it was a very, very good read!
It has its own original werewolf world with strong characters.
Gabby is a young girl (young woman at the end of the book) who lost her parents and has been a long time in foster care. In many houses in fact because she has a special "ability" to attract unwanted male attention. She also sees "lights" emitted by others and is able to locate them. One night, Gabby will meet Sam an old werewolf who will introduce her to his world.
She is highly interesting to werewolves as a rare human able to find a mate among them. The Elders want to introduce her to every unmated male given the lack of female werewolf. To say Gabby is not enthusiatic would be an understatement.
She is strongly independant, wants her freedom and to achieve her goal. She'll comply out of respect for Sam and mainly to be left alone.
I won't give spoiler but at first her unexpected mate Clay is all but what you'd clasically imagine while reading romance...
The courtship and the book were at times outright funny thanks to Clay's peculiar but smart vision of courtship. Clay is not your usual charmer but cares deeply for Gabby. He is strong, determined, attentive, caring but also stubborn. He truly grew on me.
I can't explain more but it's really entertaining, original and you still don't know at the end of this first book what Gabby precisely is.
I'm happy to discover a new and original serie about werewolves and paranormal world!
(review of free book)
Review by: Brownie on Aug. 14, 2013 :
Gabby has a very sad life but she never quits and I liked that though she wasn't very trusting, especially with men, she was not jaded. She had a goal and not matter the obstacles she was going to reach that goal.

Gabby was a foster child and due to her strange ability, she drew the attention of men. Very bad for a girl bouncing from foster home to foster home. She does end up with a good family. Once she meets Sam her world changes even more. She doesn't even understand herself or her ability and now she has to try to figure out and even stranger ability.

One thing I didn't understand was how Gabby was so easily given to a new care giver without going though the foster system. I guess her family just made a deal and hope it worked.

As Gabby tires to navigate her way though werewolf etiquette and the process used to find mates, she is almost home free when she meets Clay.

This is straight YA only involving kiss. And though this book is packed with action the mystery of trying to figure out Gabby's power and Clay kept me turning the pages. We got just enough of her everyday life to answer questions on how her powers affected her life. Honestly, Clay made this story. First I was really irritated with him but soon I could see the method to his madness.

Two things I didn't like was I still don't truly know what Gabby is or if she is just human with and ability. While one part was kind of sorted out, I still want to know about the draw she has to men. Second, I felt a little gypped on the connection at the end. We waited loving and patiently and it seemed it all got wrapped in a few paragraphs. I sure hope we at least find out what happens with an update in the next book. I like knowing what happens next.

I was given a copy of this book for an honest review. (LoP- Read 2 Review)
(reviewed 35 days after purchase)
Review by: Pam Mandigo on July 20, 2013 :
Gabby has been different all her life. She sees sparks were people are and men can't seem to resist her. She doesn't know why she is the way she is. She meets Sam one night and learns she isn't the only one who is different. Sam is a werewolf and Gabby is very special to the werewolves. Sam takes over raising her and she begins trips to meet the others. While all she wants is to go to college. Just when she thinks she will get away she meets Clay. She knows they have a connection but fights it. Going against everyone's wishes she goes onto college. She is soon followed by Clay but he doesn't bother her to bad. After all he never speaks. She soon begins to get visits from a different werewolves and see unusual spots. Not the type she is used to like humans and the weres she knows have. As she searches for answers about why she is different she comes to depend on Clay to help her. The new weres don't want to take no for an answer.

Gabby is not what I expected. I figured anyone who draws all men in would be conceited but she is not. All she wants is to be left alone from them and hates having that power. She likes spending time alone. She also is very stubborn and likes to do things her way. She is really fantastic. Clay for most of the book I wasn't sure what to think of him. After all I only had his actions to go as he would not speak. However I learned to love him. He is quiet but will do whatever he has to to protect Gabby and tries to give her time. He can also be very sweet and he is smart despite what people think of him.

I had my eye on this book for a while and when I got the chance to rad it I was thrilled. It was different from what I was expecting but that is a good thing. I loved it. It is different in a way that when you think nothing can be new anymore it is. I really enjoyed getting to know all the characters and the story is great. This is a very easy book to read as you don't want to put it down. I had to make myself go to bed and finish it the next day. The author did a great job especially with Clay. You really get to know the real him when you think you wouldn't be able to. I think if Gabby doesn't want him I'll take him. I think this book really sets up the start to this series and I can not wait to read more. If you like books with weres, paranormal books, or just a great book give this one a try. I can't wait to see what happens next even if I know I will be up all night reading it.
(reviewed 52 days after purchase)
Review by: Angela Ripp on July 08, 2013 :
I read Hope(less) in exchange for an honest review and will have to say that I fell in love with this book...

I have always loved paranormal romances so I reading Gabby and Clay's story has been wonderful. Gabby has always felt out of place until she befriends Sam who "introduces" her to his home amoung the werewolves. While finishing high school, she learns about their ways, how she has been chosen to be 'claimed' by one of them and about her own gift (that she has kept to herself all this time).

She ends up with a connection with Clay but still wants her freedom to make her own choices. Gabby and Clay end up building a relationship while Clay stays mostly in his fur most of the time. Gabby also discovers what her gift is and finally realizes how she can use it to help others like her while at the same time 'claims' Clay as hers.

I can't wait to read (Mis)fortune and to read about Michelle. Thank you Melissa for allowing me to review Hope(less).
(reviewed 25 days after purchase)
Review by: Samantha Mullins on June 27, 2013 :
I was given a copy of this book in return for an honest review.

Hope(less) is a story about a girl named Gabby, she can see colors around people, that isn't an aura. One day walking home from her volunteering at the hospital she noticed a different color on some guy she saw by the water. Much to her surprise he ended up being a werewolf named Sam.

After getting to know Sam, she learned a lot about werewolves, and ended up moving in with him as her foster parents were expecting a child of their own.

Once she turned 18 Sam wanted her to go and be introduced to all the unmated males in his pack. While she didn't agree with it, she went, because she was hell bent on not letting other determine her life for her and she had goals of going to college and making a career for herself.

Well during the last Introduction she met with a massive amount of wolves, and none sparked nothing in her, until she was walking back into the house and the seclusive and quiet Clay was standing there. Boy did this urk Gabby off, this was not supposed to happen. So her aggressive and stubborn nature confronted this tall dark and silent man, and said somethings she shouldn't have, did it seal her fate though?

Gabby gets to her new house and meets her new roommate Rachel, just barely gets settled in when a strange dog comes almost literally knocking on her door, ok,ok,ok he sat down on the towel next to Rachel in the backyard when they were going to sunbathe together. But after a few minutes the bells clicked and she realized her words had come back to bite her in the butt, because the giant dog was Clay in his wolf form.

Throughout this book Gabby learns to communicate with Clay because he refuses to talk, and she learns to trust him, and she in a way learns to love him. However, there's a new color she's seeing with some wolves, it's bugging her not having the answers she needed, meanwhile Clay keeps getting challenged by other unmated wolves. One night Two of the "other" wolves had came to her house and tried to take her, and attack Clay, well one of them so happens to have the same connection to her as Clay does. This confuses the hell out of her.

Will this be the end of everything Clay has worked for in getting Gabby To claim him? Will Gabby claim him even though there is another potential mate for her? What is going on with the "other" wolves?

This story enthralled me to no end. The writing was superb, the story in itself was extremely creative and original. I give Melissa Haag 5++ stars for this book. I just hope we'll get to see more of Gabby & Clay in future books, and now I'm dying to get my hands on the next book.
(reviewed 90 days after purchase)
Review by: Crystal Dawn on June 26, 2013 :
An enjoyable story. It has interesting twists and turns.
(reviewed 2 days after purchase)
Review by: Vera Maslow on June 25, 2013 :
I love werewolf stories. I love romances. This was a great mix of both. It was not a typical werewolf novel. It used an interesting way to develop the romance. Character's were great and there was a good mix of personalities to move the story and build the main characters. I liked Sam and his role. Rachel was a great supporting character. I thought the relationship between Gabby and Clay was great. I thought the way the relationship developed was wonderful and different. I also liked the mystery or trying to figure out Gabby's ability.
The characters really drew me in to the story and were very likable. This was a easy read and had a great flow. The ending was wonderful, yet torture. I want to read more! It left me satisfied and wanting so much more at the same time.
(reviewed 10 days after purchase)
Review by: Desiree Gorman on June 14, 2013 :
As I mentioned on Facebook the other day, I really needed a break from angst. While I love all my New Adult books and authors, I needed a book that is fun, lighthearted but a really great story. So to be honest, I looked at the various books the blog had received for review and tried to find one that I thought would get me as close to that as possible.

Melissa Haag's book Hope(Less) stood out to me. Not only was it a young adult read (to me means hold the drama) but it was a paranormal. With the ending of Twilight, I knew I needed to find a hot new werewolf series to get my "fix." The Judgment of the Six series, I believe, is going to be just that!

In the beginning of the story, the author introduces us to Gabby, a not so normal 16 year girl who has been moved around from foster home to foster home. Her mother is dead and she has no idea who her father is. One night while coming home from her volunteering at the hospital, she runs across Sam, a grandfather like figure who changes right before her eyes into a werewolf! Sam explains that there is something different about her and he would like to bring her into their world.

Part of this inclusion means regular visits to the compound to be "introduced" to unmated werewolves to determine if they are meant to be together. Gabby however, knows that she doesn't want to select a mate. Being the first thing she can control, Gabby wants to go to college, get a job and make decisions for herself.

As she is finishing her last agreed upon introduction before starting college, she haphazardly runs into Clay and the sparks start to fly. She can't believe that just when she was home free, all of a sudden he appears and makes a connection she can't explain.

One thing I loved about this book is that though it was serious, dealing with determining feelings, finding out more about Gabby's abilities, etc., there was so much comedy! When Clay learns that Gabby is going to try and leave, he literally takes Sam's vehicle apart. Gabby tries to explain to Clay her thoughts but he does not speak back. So she asks for time to get to know him, live with him while she is going to school.

Under werewolf interpretation, that means that Clay showed up just as she moved into her own space (with a roommate) and a big dog shows up.

Hope(Less) tells the story of the back and forth between Gabby and Clay as she gets to know him slowly. She gets both the dog and the human and knows that she won't be able to fight the feelings for much longer.

Clay was just amazing. The one thing I love about almost all paranormals is they are tailored after animals, many of which have an amazing instinct to protect the ones they love. Clay exemplifies this to the max. The care and love he shows Gabby on a regular basis allows her to be more trusting and open with him. When things start to get confusing and men appear to be after Gabby, she must rely on Clay to keep her safe and help her.
(reviewed 27 days after purchase)
Review by: Becca Vincenza on April 28, 2013 :
You will not regret it, both combined with its beautiful sculpted voice, and unbelievably beautiful love story you will have a hard time pulling yourself away from the book to oh i don't know, sleep, eat, go to the bathroom, or you know breath.... well actually you will breathe i can almost guarantee at least one loving sigh. Going into this book i was expecting this really action packed, prophecy book just because of the idea of being judged or what nots but that isn't the story really. And this is coming from a girl who usually gets pretty bored when bad guys aren't popping up at least every chapter, i mean there are a lot of books i love that don't do that but still. Anyways moving on from that thought. Words can't describe how easily i fell in love with everything about this book. I will try to keep the rest of my review not as gushy but be warned.

A little on plot: I love all things werewolves, lets put that out there right now. I love them can't help it i just do. The strange thing about this book is that even if you are more of a vampire lover i think that you could handle this book, its not pushing the pack mentality too much, and it doesn't really force you into the soulmate rule, which i think is one of the greatest things about this novel. I know that Soulmate rule is used in most of all types of paranormal now, even if that isn't what is its called that is what i call it, always. Anyways the problem with Soulmate rule is that it happens fast and the characters never really get to do that whole building up to what could be a beautiful, meaningful relationship.

A little on characters:

Gabby: She is a foster kid, always been moved around, and on top of being a foster kid she has this problem, she sort of has that siren attraction towards men, they have talk to her, they want to get her go on date, so when she was younger and foster dads, brothers, uncles started to become to unbearable she would have to change houses again, she therefore also her trust in men sort of wavered. She is distant yes but its understandable and its not one those cold distances where the reader feels like they can't connect with Gabby. I loved her because yes she was strong and she stuck with what she believed she wanted, she was compassionate, and an amazing MC. I loved her there i don't think was a moment that i hated her. She thought things through, she was smart and considerate.

Clay: New book boyfriend is found. I do want to warn you though he isn't much of a talker. Though I usually like those out going, funny MC guys i found myself loving Clay almost instantly and there is no Soulmate rule needed. Though he is silent he speaks very loudly, that like i put in here from the book is talking about him. Through his actions you realize how smart, funny, and loving he really is. Not to mention possessive without being overbearing, and protective without being annoying about it. He was like the greatest combination of a man and when he does speak he makes it count. I was swooning after him even without words, again it was all about what he didn't say and what he did for her. He is a sneaky little bastard as well because i know i have said this before but he really does crawl into your heart without realizing it.

a Little on writing style: amazing, mature, intelligent and beautifully written. Now if you want a much longer version of this review because this is only bits and pieces of my long review you can check it out here on goodreads: http://www.goodreads.com/review/show/596383205
or here on my blog thing that i do: http://theviolethourbookreviews.wordpress.com/2013/04/22/hopeless-book-1-by-melissa-haag/
(reviewed 8 days after purchase)
Review by: Gladys Ann Bautista on April 19, 2013 :
I am reluctant on reading this book at first because I am not anymore a fan of werewolf characters/books, I just thought those already past their prime, but reading the first part of this book made me rethink my assumption, moreover, finishing it made me conclude that I was wrong. Werewolf books aren't past their prime yet! Hope(less) still has an effect on me and I've been fangirling ever since I've finished it.

I must say the beginning of the novel was not well paced, at first I thought it was slow, Gabby and Sam met each other, they became friends and Sam introduced her to his werewolves pack and then suddenly *BOOM* it jumped 2 years! That was a pretty big time loop, I wasn't able to see the development in Gabby and Sam's relationship, they just became close and she trust him like a family. But the middle part up to end was good it showed the development of each character, and the slow development on Gabby and Clay's relationship.

The reason I was hooked again with werewolves is the way they were described in this book. They are not some uncontrollable ill-tempered creatures who will throw themselves into a fight once they get annoyed. They have a reason why they throw themselves into a fight and that is to find their mate. Yeah, they were desperate to find the girl whom they can feel this irresistible pull and hopefully make a tie with her. I think the loveliest part of this mate finding and tie bonding is the courting that has to be done by the wolf until the girl claims him and finally seal the tie.

I love the courting part all because of Clay! He's the man (or the dog)! Let's face it! Clay isn't the most ideal leading man, he looks filthy with his long hair that covers his eyes and long beard that covers his mouth but his thoughtfulness and patience for Gabby to claim him was really awesome, it made him the ideal man not by his looks but by his big heart.

The undoubtedly best part of this book was the subtle romance between Gabby and Clay. When Gabby met Clay she surely felt a strong pull towards him, but the pull did not affect the progress of their relationship because Gabby remain reluctant on claiming him because of her dreams. Though Gabby's feelings grew gradually, still Clay willingly and patiently court her until she was 100% sure of him. This is another unique from this book because their love wasn't artificially made by the pull but it was naturally developed over time.

I noticed there are few misspelled words that need to be corrected,but that's okay because it doesn't affect how I feel for this book! I think this is pretty amazing, it gives another dimension for werewolf books and supernatural people like Gabby. I give this book 4.5 stars and 5 stars for the wonderful author Melissa Haag! I feel lucky that it's already April, I don't need to wait long for the book 2!
(reviewed 7 days after purchase)
Review by: David Polney on April 11, 2013 :
I accepted this book in exchange for an honest review. (We all know I'm brutally honest, I was scared for her LOL.)

Often times I don't like werewolf books, and I even try to avoid them. In my opinion they are really annoying with the constant hostility and edginess. There is so much more to Hope(less). Sure there was blood and hostility, but it wasn't because of the whole attitude that werewolf's had to be tough, edgy, and disturbed. Hope(less) had a softer side that ultimately made this book for me.

These weren't the typical werewolf's I see in horror movies. As I had mentioned already, they weren't super influenced by their animal side. They weren't demented, they weren't loud (yeah Clay, I'm talking about you), and they were only hostile in scenarios that called for action to be taken. I loved them for the sole reason that they were in control of themselves.

I'm not saying that the action was lacking, far from it actually. I'm just saying that it wasn't uncalled for. There were no random fight scenes just because someone spilled milk. The fight scenes that did happen were intense. I can't even imagine being around Clay (the unwanted love interest) when he was in his fur, tearing apart another werewolf for the sake of protecting Gabby. I would be down right terrified watching giant wolfs attack each other. In fact I probably wouldn't leave the house for days after seeing them down the street from me.

I loved the character development. It was an even paced read that allowed many characters to fully develop their own distinct personalities. (For the sake of keeping this shorter and readable I'm only talking about the two main characters) Gabby was the main character that just wanted to be normal, she didn't understand her gift but it didn't prevent her from being who she wanted to be. She was a strong willed female and had a witty personality. I totally felt she was a real person. Clay was the silent, protective, totally lovable type. *Swoon* Totally crushed on him, the rugged look totally sits well with me, though he did need a serious bath in beginning.

I liked the fact that Gabby and Clay didn't outright love each other the moment they met. Sure they were linked to each other but Gabby did not want anything to do with Clay. It took months of being forced together for the affection to really kick in. It was steady and when it did happen it felt like a real experience. Not that insta-love crap.

I do have a complaint that I just can't get over. In the very beginning Gabby meets Sam (her guardian of sorts), and what is Sam doing? He's stripping naked in the middle of a park, turning into a giant wolf. Sure she ran away from him but twenty minutes later, she was sitting with him chatting it up. I mean common.... what? The hell I'd trust him. I know it was essential for their meeting but I didn't understand why her trust came so easily soon after.

Other then my one and only complaint I think this is an amazing book. I loved it and even asked the author to allow me to review the next book, it was just that good.
(reviewed 28 days after purchase)
Review by: Jet on April 04, 2013 :
The read was a little slow to start, but once Gabby moved in with Sam and the story started to get going I was hooked! The way it was written was wonderful and the characters were great to follow and easy to connect with.
I loved the relationship between Gabby and Clay, and how Clay remained silent until the very end, it made it so special and unique. I liked how Clay would mess with Gabby's friend Rachel when he was in wolf form as well; it added some nice humour to the read that I found quite entertaining. The angle of Gabby being able to see Auras/ lights was inspired; I don't think I have ever read anything like it before which was refreshing.
I didn't like Sam though. I felt like all he did was use Gabby or try to force her into the customs of the werewolves right off the bat before she could even adjust to her new life. I was glad when Gabby was finally able to stand up to him and do what she felt was right. Overall this was a really great read; I cannot wait to see what happens in the next installment. I give this read a solid four and a half stars.
(reviewed 8 days after purchase)
Review by: Phyllis Frando on March 10, 2013 : (no rating)
Really enjoyed this book. Couldn't put it down, read until my nook ran out of charge. Can't wait for the next book in the series.
(reviewed 2 days after purchase)