About the Series: The Black Tree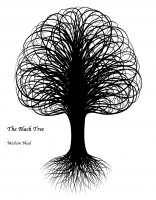 The Black Tree series is the epicenter for all of the insanity that spills out across the multiverse. The cracks in the multiverse start here (although the characters are still trying to figure out the who, what, and where of it). The series follows an ever-growing group of Others (aliens, gods, or any other creature that isn't human but could maybe pass as one) as they try to stop all of the intergalactic wars that keep cropping up. They usually end up getting sidetracked by bullshit, vengeful gods, and one ridiculously evil elf. Many of the characters share a lot of traits in common with humans but then there are moments when you're definitely glad they don't live on Earth anymore (like when some of the crew bear witness to the way Razi throws up).

As time passes in the Black Tree universe (in a warped way), events get weirder, and more alternates (people from the alternate universe) pour through the cracks the characters begin to realize that one (or a few) of them messed up along the way. But by the time any of them find out what went wrong, things have gotten very, very bad. The only way to fix it is to go back in time to correct it.