About the Series: Cold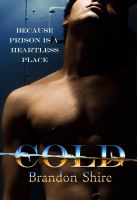 In prison, no one cares. At least that's what they tell you.

But when Anderson Passero meets Lem Porter, the biggest baddest convict on the block, he helps him to see a future Lem has refused to envision. On the surface, they come together for physical and emotional contact. But when they dig a little deeper, they realize their journey is just beginning. And maybe, just maybe, they can learn what love really means.
Readers of This Book Also Read
Reviews
Review by: Sue on July 16, 2013 :
This is the first book of Brandon Shire's that I've read, and I was blown away! It's seriously one of the best books I've read.
I bought the book because of its high rating on Goodreads, but also because I love prison stories - the more real, the better.
This is a brilliant prison story - it rings true on every page. You feel the routine, the monotony, and at the same time, paradoxically, the constant adrenalin-rush of fear about your surroundings, your fellow inmates and the possibility of sudden, damaging violence or even death. It's a strange atmosphere to live in, teetering between boring and white-knuckled tension, and Mr. Shire paints it perfectly, seemingly effortlessly, so you don't even notice the atmosphere until you're completely submerged in it.
He does the same with the characters. Both Anderson and Lem are guilty - they admit it. I've read several books where at least one of the MCs is innocent, and the novel based on their dreadful situation. In some ways that's the easy way out - there's lots of insta-angst and drama that way, but Mr. Shire takes the road less travelled, the braver road, where he takes guilty characters and shows a slice of their life.
They're less than upstanding characters, then, one is in for murder and the other for drug-dealing. The reader shouldn't like these characters, then, right?
Wrong. You soon find the humanity of these two men (and all the others surrounding them, even the bad ones, who are not stereotypes or cardboard-cut-out villains - they're real, too). You realise they're just people who've made mistakes, who might, or might not, do things differently next time. We've all made mistakes; these guys just made bigger ones.
You see the two circling each other, starting with no more than a glance, a flick of their eyes meeting, until something happens that propels them into closer orbit and the inevitable slide towards love receives its first push. It's lyrical and it's tragic (or at least it feels that way a lot of the time).
And yes, I cried buckets of tears because Mr. Shire's writing is so beautiful, and I don't see how you could read this book and do otherwise. Because it gets under your skin, it buries itself there along with the characters (especially Lem, who is totally wonderful, murderer or not) and it's impossible to read such words and not be affected by them.
I am off to read Listening to Dust next, and I fully expect more wonderful writing. I sincerely doubt Mr. Shire could write a bad book based on this alone.
Read this, and support Mr. Shire and the charities he helps. It's the least we can do in return for his truly amazing talent.
(reviewed 19 days after purchase)
Review by: Alexandra Pedro on June 11, 2013 :
This book was pretty good! Very emotional and very fast paced. The writing felt a bit stiff at times and somewhat rushed but on the whole this book was good.

It had me hooked from the get go and has now left me wanting part two to know what happens to the titular characters as well as why Lem killed his brother.
(reviewed 27 days after purchase)
Review by: melissa vose on June 05, 2013 :
Great book, I can't wait for the next one :)
(reviewed 22 days after purchase)