About the Series: The Hollows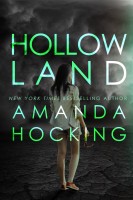 "This is the way the world ends - not with a bang or a whimper, but with zombies breaking down the back door."

Nineteen-year-old Remy King is on a mission to get across the wasteland left of America, and nothing will stand in her way - not violent marauders, a spoiled rock star, or an army of flesh-eating zombies.
Readers of This Book Also Read
Reviews
Review By:
peapodsa
Hollowland Review by DeannaReads
My thoughts and opinions on the book Hollowland by Amanda Hocking.
Review by: L.E. Horn on Dec. 27, 2015 :
A great zombie romp with relatable characters and a pace that keeps readers engaged to the end.
(review of free book)
Review by: Alysa H on Nov. 27, 2014 :
Fairly awesome zombie apocalypse story with a kick-ass female lead. Remy encounters various entertaining effed-up things on her journey, and Hocking deals with gender issues in some interesting, subtle ways. I do wish that there were a little more explanation for Remy became such a bad-ass though, as the action starts on page one and never stops, and we don't hear much about life before zombies. But all told, this book was a lot of fun.
(reviewed the day of purchase)
Review by: Robert Zimmermann on Aug. 28, 2013 :
I was pleasantly surprised with this book. Over a year ago, I read Hocking's Switched, which I enjoyed, but Hollowland was a step beyond on the enjoyment level. Hocking's Hollowland was simply a great novel for its zombies, characters, and the world built inside it's pages.

One thing I really liked about this book was that the author didn't spare the reader from any of the gore or unpleasantness that occurs in a world where zombies and the destruction of civilization as we know it is the "norm." In the scenes where zombies are attacking the main characters, there's much description of how much blood, limbs, etc are flying around and breaking, and dying. Hocking makes sure the reader knows just what it's like to encounter these creatures, like any good zombie book should. Some of the description of how the zombies' bodies hold up to attacks are slightly repetitive, but it also drives the point across that these once human bodies have changed drastically because of the virus.

Remy, the narrator and main character, is one of the better characters I've read this year. She's strong, determined, and rarely shows a sign of weakness, even if a love interest in introduced. She's living in a world where survival is top priority and she doesn't let anything get in her way of that. I found this to be a great part of the book. All of the characters were really well-written, actually. They were all developed over the course of the book and even a few that I didn't like in the beginning, grew on me. Oh and Ripley, I want that to be a surprise, but she might be my favorite character in the book.

Upon finishing this book, I knew I'd want book 2. It's not a common occurrence for me, either. It ended nicely and was set up for what I'm sure will be an exciting continuation. I can only hope that there's more excitement, blood and gore, and danger in my reading future.
(review of free book)
Review by: Avid Reader on Aug. 05, 2013 :
What I liked:
-The book starts off with some action, drawing you into the book.
-Lazlo. The love interest wasn't the stereotypical badass that always had to save the heroine. He was actually kind of useless and only good for his sarcastic humor.
-Lazlo and Remy's relationship. There wasn't a case of insta-love. Remy is annoyed by him at first and considers him a burden, but he begins to grow on her after they go through some deadly experiences.
-There are some cool zombie killings, even if they are a little over the top for a teenage girl to handle.
-The ending. It was by far the best part of this book. Remy was so selfless and willing to make such a huge sacrifice for Max. it was probably my favorite part of the book.

What I disliked:
-Remy has a very easy time killing zombies. She survives many outrageous situations, all thanks to the training of a soldier. I could maybe buy her becoming proficient with a gun (I learned how to shoot fairly easily) but she was a bit of a cliché zombie killing badass.
-Ripley. I mean, it's really cool to think of having a pet lion at the end of the world, and she's named after one of my favorite fictional heroines, but this bothered me. Lions do not follow people around like pet dogs. They don't come when they're called.
-The cult. The whole thing was very cliché, especially with the circus tigers to guard the perimeter, and I thought it was unnecessary for the plot. Same with the marauders.
(review of free book)
Review by: Casey Harvell on Jan. 24, 2013 :
Absolutely loved this series. Well written and the story grabs hold of you. I read both books in days and plan to re-read them shortly. Well done! I only another book is in the works.
(review of free book)
Review by: Iyanna Orr on Nov. 29, 2012 :
Absolutely adored Hollowland. The book itself flows from one place to another and gives you a whole other insight to the idea of a zombie apocalypse. It tells us a story of struggling to survive and that not everybody will make it through the world where mundane life ceases to matter and at the top of everybody'd priority list is staying alive and uninfected.
(review of free book)
Review by: Nicky on Nov. 16, 2012 :
I've read quite a lot of Hocking's work (namely the My Blood Approves series and the Tryll Trilogy) and liked 'em, so I saw this one for free on Smashwords and thought I'd give it a shot...

By far, this is MY FAVORITE SERIES OF HOCKING'S and I feel it is her best written.

It was a lot tighter, succinct where it needed to be, and more eventful than MBA. And much more intense and gritty than Tryll. I feel like it is extremely underrated, since you hear a lot about her other books and hardly anything from this one! If you liked her other work, you will probably like this series even better. You can tell she has developed into a stronger writer and improved the pacing (which was a major con for me in MBA).
The book kinda says, I'm not going to lay it all out for you, you need to read between the lines a bit, which is so nice! It didn't try my patience and I was left to mull over a few parts that weren't completely transparent.
I only have a few qualms: I would have liked to see more of the character's internal thoughts, but then again Remmy is not the kind of person to dwell on the past. Also the relationship with Lazlo--I didn't feel there was a definite catalyst for them to be drawn to each other. Other little problems I had with it are just a result of being self-published I think, and with more extensive editing would have been addressed.

But that being said, I REALLY liked the story. Remmy is a bad-ass zombie killer and doesn't let her emotions get the better of her. She can't. She is a survivor and that means having to make tough choices that haunt her. But it is her love for her little brother, the only thing she has left in the world, that keeps her trekking across the country and braving the horrors of post-apocalyptic America till she finds him. On top of the obvious zombie run-ins, the people can be just as dangerous... if not more!
There are some awesome twists, a surprising revelation, and a cliff-hanger ending, but I won't give it all away. The great thing about this book is it feels like a real adventure. You will be surprised and find the unexpected at every turn.

I have already read the sequel Hollowmen too, which I liked EVEN MORE.

By far, my favorite series from Amanda Hocking! And probably my favorite zombie story ever.

P.S. Ripley FTW! I want one :)
(review of free book)
Review by: Sara Zaske on Oct. 30, 2012 :
This is a zombie apocalypse book, pure and simple. Remy is a teenage survivor is also a kickass zombie killer. A virus that turns people into zombies is ravaging the world, and the book opens, the zombies are attacking the quarantine where Remy is staying, and the people in charge have already evacuated her little brother to somewhere else. Now, she has to find him. That's essentially the entire plot.

I felt I had to read Amanda Hocking because she's an Indie author who's made it. She's sold millions of books, and naturally, I want to figure out her secret. I also heard she writes first drafts of books in 24 hours. I can't fathom that any book written that fast could be good, as Truman Capote famously said, "That's not writing. That's typing."

So it was with a great degree of skepticism that I picked up Hollowland (for free by the way on Smashwords!) It had a great first line that gave me hope:

"This is the way the world ends—not with a bang or a whimper, but with zombies breaking down the back door."

And it was filled with action, but this is not a very deep book, and it's riddled with problems both large (unbelievable plot elements, shallow characters) and small (typos, misused words.)

However, if you take the book as light, pulp fiction and can overlook real eye-rollers, it's a lot of fun. I can't recommend it highly because of all of the problems, but Hocking obviously has talent. She's a natural born storyteller.

And now that she's a millionaire with agents and editors at her disposal, I only hope she takes the time to hone her skill and give us some really great stories.
(review of free book)
Review by: LeeCharles on Sep. 22, 2012 :
Loved it!
(review of free book)
Review by: Tina Smith on Sep. 01, 2012 :
Amanda Hocking flys into the action. With a strong female protagonist whose role could easily and would have at one time been a male character. A mark ofgood writing is taking the unbelievable anfd making the reader become so involved that it makes it real.
I couldn't or didn't want to stop reading. The flow of action is maintained and there are no boggy bits. Its not literary fiction and at times I wished thete was more detail and reflection but ultimately I didn't care and found hollowland quite refreshing. All the zombies were individual in there states of varying decay and lazlo reminded me of cole from ths maggie steifvater shiver trilogy. He was nicer and less fleshed out but I appreciated the role reversal between the characters where Remy was the one saving him. I look forward to reading more of her writing.
(review of free book)
Review by: Books4Tomorrow Reviews on Aug. 21, 2012 :
I started reading "Hollowland" in bed one night, and 02:30 AM the next morning I was still reading! I simply couldn't put it down. So many things I loved about this book; where, oh where shall I start?

No other book has ever grabbed my interest from the very first sentence the way this one did. As a horror fan who is thrilled by post-apocalyptic zombie themed books, "Hollowland" hit the mark spot on. But these aren't your usual brain-dead, brain- devouring kind of zombies. Noooooo, these are cunningly clever, dangerous zombies who can move at lightning fast speed. Oh, of course they love eating brains, but that's not where their appetites end. Pretty scary, huh?

Apart from the zombie factor, there is a lot more to this book than merely running for your life. A dead, deserted and decaying Las Vegas; the most loveable, zombie-eating lion you'll only get to meet in this book; believable and likeable characters; a freaky religious cult, marauders, an apocalypse which will make you happy to get back to reality once you can tear yourself away from this amazing book, and a tiny side-order of romance, are only a few of the elements which makes "Hollowland" an unforgettable experience. Yes, I say experience, because even though the plot moves at a rapid pace, the suspense is really what drives this story and keeps the reader glued to the pages. The superb writing created an atmosphere of dread which fed my fear for the characters' lives. Every chapter – from the first to the last - was charged with foreboding and anxiety, but the author also deftly spun an underlying thread of hope for the reader to hold on to.
I have a love-hate relationship with cliffhanger endings, but I couldn't have imagined a better way to have ended this book than the manner in which the author did. I'm burning with curiosity to see what happens next with the survivors in book two, but I also feel that a lot of questions were answered in this book and loose ends were tied up nicely at the end.

This is beyond a doubt an addictive read and I now understand why Amanda Hocking's books have sold millions of copies. I can't wait to read them all!
(review of free book)
Review by: Nicole Thornton on May 28, 2012 :
The start of this book takes you straight into the story. Loved the strong start. Especially loved how Hocking provides you with the background and context of a character's behaviour in small doses when it fits in with the dialogue or the scene. There are no big info dumps. Loved her writing, character relationships and world building, and how she keeps true to the characters personalities and situation (i.e. you aren't thinking, "hang on, where did that behaviour come from?"). I can see why this book has become so popular. Quite different to other YA lit out there at the moment. Strong characters (finally, a strong female lead!) and strong story telling.
(review of free book)
Review by: Jeff Oaster on May 05, 2012 :
Okay, first a disclaimer: I am probably three times the age, and the wrong gender, of Amanda Hocking's target audience. My 12 year-old daughter, however, hits both of those qualifications. Since I do like me some Zombie fiction, we decided to read Hollowland together.

This book is pretty much the equivalent of a summer action movie - nonstop action from the very beginning. I read through it in about two days. While there isn't much in the way of character development, Remy is a tough, strong and smart lead character - which is exactly how it should be in a YA book. In a way, she reminded me of Katniss Everdeen from the Hunger Games in that she was fiercely independent. The book ends on a terrific cliffhanger (with Remy making an extremely bold decision). I've yet to read the sequel, but my daughter quite literally purchased it immediately after finishing Hollowland and plowed through it by the end of the next day.
(review of free book)
Review by: Katja Rinne on April 15, 2012 :
Humans infected with zombie virus, epic road trip, doomsday cult, death, blood, ooze – Hollowland has it all, with the spice of some drama and little romance. I selected this book to be my first ever eBook and I can't say I regret the choice.

The beginning sentence: "This is the way the world ends; not with a bang or a whimper, but with zombies breaking down the back door." is widely quoted on the reviews of this book, but it's such a marvelous way to start this story, that I can't but join them. From that sentence on the book takes you to a fast spaced journey with the heroine Remy, to find her brother, through a devastated land. Hope is scarce and survival hard.

I like strong female characters in books and Remy surely doesn't need saving; she's the one taking care of others. The Author has succeeded in making the character likable, yet not too perfect. I would've liked to see a bit more depth in her, but then again the fast pace throughout the novel didn't really leave that much time to dig into the characters thoughts. Not necessarily a bad thing, since the story worked great as it was.

More so I really missed some clarification to some secondary character motivations and I think the author left many of the supporting roles disappointingly shallow, when there was potential to so much more. I'd especially would have liked to learn what Lia was thinking and what was her reasoning – I had to go back in the book to double check if I had skipped a page by mistake, since it was never addressed.

It's easy to guess what's the thing with Remy's brother – I was sure of it from the start – but knowing it doesn't diminish the reading experience. Even though it might be clear for the reader, it's not hard to believe, that the secondary characters don't know about it before Remy confides in them. On the other hand there was some surprises in the plot, mostly things that I expected to happen and they never did, partly this also made me wonder why some of the characters were even introduced, since they didn't really add any real spice the story.

Hollowland is a solid book with a good story in it, so to all you who love your dose of zombies, go get it!
(review of free book)
Review by: Gary Carter on Feb. 25, 2012 :
I loved everything about this book. The premise was cool and the main character was strong, vulnerable, and smart. The surprise ending had me reeling and I'm definitely looking for to the sequel! Ms. Hocking is my inspiration and I am a huge fan of her work!
If you like zombie stories and kick ass heroines, this book is definitely a must read.
(review of free book)
Review by: N B Hallett on Feb. 19, 2012 :
I did not download this because it was free. I had already read the first of Hocking's Trylle Trilogy and also all My Blood Approves up to book 4.
Yet again, it is clear a lot of thought has gone into the back story to this scenario before Amanda Hocking began writing. Very descriptive as usual to make you feel you are right there, which with a zombie book can be scary.
I actually enjoyed having the lion in the story. Other than cheetah's they are one of the only wild cats that can be tame if raised by humans from birth, so it is not as far fetched as people may think.
(review of free book)
Review by: Maija Barnett on Nov. 29, 2011 :
This is an exciting read. The action scenes are great, and I couldn't help but root for Remy and her friends. My only criticism is that Hocking didn't really add anything new or creative to the standard zombie lore. But I'm not sure if that mattered so much because I couldn't put this book down!
(review of free book)
Review by: Amy Miles on Nov. 21, 2011 :
Downloaded this book since it was free. I'm not a fan of zombie movies or books, but since I enjoyed some of her other books I decided to give it a try. I was surprisingly pleased with the book.
It wasn't too graphic that I couldn't make it through the book but detailed enough to give me the creeps. Will probably read Hollowmen.
(review of free book)
Review by: Linda Nelson on Nov. 21, 2011 :
I loved this book. Amanda Hocking has a wonderful imagination. This fast paced story about zombies, lions, and tigers kept me reading almost non-stop. I don't think there was a moment in the book where I ever found I had lost interest in the story.

The fact that this is the first zombie book I have ever read and I just could not stop reading.

I will be definitely investigating the rest of her books in the near future.





I gave this book 5 out of 5 stars. *****
(review of free book)
Review by: Nora Black on Nov. 03, 2011 :
From the first page, straight through to the last, this is pull up your socks and go book, I loved every second of this cracking story. Amanda Has TALENT.
(review of free book)
Review by: Vlad V. on Aug. 31, 2011 :
Standard zombie apocalypse novel. It was my first read by Hocking and I thought it was average. I was hoping for more. "Cell" by Stephen King is worlds better if you like this sub-genre.

Still, Hocking has been a major success so I don't think it's fair to avoid her in the future based on a single title. She's a competent storyteller and Hollowland did keep my interest right until the end, so it certainly wasn't all bad.

I'll give her another shot, but this time I'll read some reviews before I make a purchase.
(reviewed 22 days after purchase)
Review by: Sandra Davis on March 26, 2011 :
This book is almost non-stop action and aside from grammatical mistakes and lack of development for some minor characters, the unrelenting pace may be the only slight drawback. There is little time for rest and the reader may have the feel of being constantly hit by a hammer, especially when characters make decisions that seem to fly in the face of rationality. I highly recommend this book and admit that I stayed up until 3a.m. finishing the book on a work night.
(reviewed 5 days after purchase)
Review by: Brandy Hunt on Jan. 19, 2011 :
I thought this was a great book. The characters really meld together. I liked that the zombies were not your usual zombies, and were in fact evolving. I ate this novel in a single afternoon it was so very good. I would have given it another star, except for the ending. We get this build up to a reunion between Remy and her brother, but it just didn't end the way I expected. I can't go much further without spoiling it, but needless to say I hope Ms. Hocking eventually gives us a sequel.
(reviewed the day of purchase)