About the Series: Rebel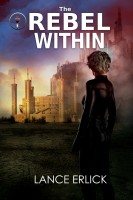 A second American Civil War leaves the nation divided under a shaky peace. The Federal Union, which controls most of the country, pursues a utopian society of Harmony without men. They exile, quarantine and force males to fight to the death to train their military elite. The Appalachian Outland promotes rugged individualism, but is controlled by a warlord who has a monopoly of power, church, and the economy, which he enforces with Rangers.

Annabelle Scott is a tough yet fragile tomboy who was orphaned at age three when the Federal Union took her biological parents. Adopted by a state senator in the opposition, she rebels against her society, hunts for her biological mother, is curious about boys she's prohibited from meeting, and is over-protective of her younger sister.
Reviews
Review by: Sue Chenoweth on Aug. 23, 2013 :
It took me a bit to get into the story, but I really enjoyed it and was glad I read it. I am amazed at how well the author got into the mind of a 16 year-old girl.
(reviewed 3 days after purchase)
Review by: The Eclectic Bookworm on Aug. 18, 2013 :
Ahhh…another one of my favorite type of books. A mash-up. Part dystopian, part romance, part thriller, part scifi and part YA. I absolutely loved this series.

My daughter is named Annabelle (but it is spelled differently), so it was a little disconcerting to read "Annabelle" so often and not think of my munchkin.

But other than the adoption thing and living in a female dominated society, my child has a lot in common with her fictional counterpart. Her rebellious nature for one, her looks for another.

Getting past that, I truly loved the character. She is strong, intelligent. She has a heart. She knows that her society isn't the utopia it is portrayed to be. She has an unquenched thirst for justice and determination to match.
I loved learning about this "utopia". I live in the South, and I occasionally run into the misinformed ideals of macho males who think I should be in my kitchen barefoot and pregnant. So reading about an all-female society was very interesting.

Reading about how this "utopia" came about was even more intruiging: in the early decades of the 21st century, right-wing extremists tried to turn back the clock. When they failed, the seceded, bringing the Second American Civil War.

Well, that seems plausible. Especially from my seat down here in Texas. A state that regulates a woman's body to "protect life" but promotes gun ownership and kills 300 people per year by lethal injection.

But as good as "the Union" seems, all "utopia" type societies always have a nasty underbelly. This one treats males as third class citizens. Any males that they do encounter are jailed (including children that are sent to "schools" that are fenced in like a prison) and are forced to wear a shock collar.

Annabelle starts helping boys escape. And then a turn of events forces her into the military.

The gadgets and tactics used for training were fascinating. I loved the idea of the simulators. However, like "The Hunger Games" by Suzanne Collins, reading about the training and about young teenage girls nearly killing each other was disturbing.

Even more "Hunger Games"-esque was the final test for those intending to serve in the mech forces: a fight to the death in an arena against a male who is hopped up on steroids. It is televised, along with a tournament among the mech recruit classes, and gambling is permitted on the participants.

I admire Annabelle's hard work and grit in doing what she feels is right for her family, despite being totally against the organization she is training for.
I loved reading about her relationship with her adopted sister and mother. The urge for Annabelle to protect Janine is palpable.

I was also sent the second book, Rebels Divided, by the author and jumped right in. Look for the review for that book tomorrow.

Overall, this is a wonderful book with strong characters, strong statements on politics and life in the United States, with twists of love, empathy and compassion.
(reviewed the day of purchase)