About the Series: The Dream Doctor Mysteries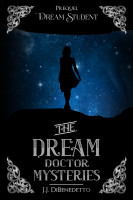 What if you could see everyone else's dreams?



Sara Barnes has just discovered that she can. And this gift – or curse – will lead her on an extraordinary journey.



Follow Sara as her newfound ability leads her into adventures she never imagined. She will hunt down a serial killer, investigate a plot to murder one of her teachers, unravel a conspiracy between a mobster and a corrupt politician and face off against her nemesis: a woman who shares her talent, but uses it to destroy lives rather than save them. And Sara will have to manage all that while finishing college, becoming a doctor and falling in love, too.



And that's only in the first four books...
Reviews
Review by: Melissa Smith on Jan. 26, 2014 :
I absolutely loved this book.Sara and Brian buy a new house. They get moved in and start to settle into a great life with the kids,but her dreams start interfering with her life again.
But this time its different.Shes not alone there is someone else in her dreams. Someone like her.
She starts to fear that this person is up to no good.She needs to figure out what this woman wants and decide how to deal with her.
I was hooked from the first page.This book as well as the whole series is great.I found myself lost and wanting to read more to find out what happens. I couldn't put it down.
I love this series. J.J. DiBenedetto has done it again.This author is amazing and I hope he makes more series. He is one of the best authors I've read in awhile.
I recommend this book to anyone who enjoys romance, suspense and mystery. This book kept me lost in the pages. I rate this book 5 stars!!!
(reviewed 13 days after purchase)
Review by: Angela Caito on Jan. 26, 2014 :
J.J.DiBenedetto has once again captured my attention as he continues with the Dream series in book 5, Waking Dream. This installment in the intense, yet humble and loving series, has captivated me and drawn me in even farther into the life of Doctor Sara Alderson and her beloved family. Sara is not alone in her dreams any longer. We now know that she isn't the only one in her family who can leap into the dreams of others, but now, Sara is facing an unknown presence in her dreams.

Throughout this series, we have fallen in love with Sara and her family. Her husband Brian, and their children, twins Ben and Steffie, daughter Lizzie, and adopted daughter Gracie, have become like a part of our own family. As each continuation of the Dream series has come, we have found that Sara will fiercely do all that she can to protect the ones she loves. To keep them safe from harm no matter what, and Sara now learns of a dangerous figure looming in the background of her dreams, and it terrifies her.

It's shocking to Sara when she discovers someone outside of her family who has the ability to be present in the dreams of others. This mysterious person could be a deadly danger to all of those that she knows and loves, and Sara must find a way to end the evil that this person is doing before those closest to her begin to suffer. Before she can do that though, she must find out who the person is, and why exactly, they're chasing the dreams in the first place.

J.J DiBenedetto will once again have you hanging onto the edge of your seats as you glide through the pages of Sara's life, and delve deeper into her dreams than ever before. You'll be utterly enthralled with Sara as she not only faces the new threats to her beautiful family, but as she once again has to face the fears from her past. Will Sara be able to eliminate the evil one from the dreams, or will this one be too much for her to handle? Filled with mystery and many surprises, Waking Dream will enchant you and will leave you looking forward to more in the future of Sara Alderson and the Dream series.
(reviewed 12 days after purchase)
Review by: HushPuppie on Jan. 18, 2014 : (no rating)
Waking Dream is the fifth book of J.J. DiBenedetto's novel, And by far the best. The first paragraph had me hooked! I see much more improvement in the writing compared to the last four books. This book has it all, romance, suspense and mystery. I really enjoyed the book, and it seems the story line is getting thicker.
Brian and Sara buy a new house, And the whole family is excited. But when Sara sees a woman in a red dress in her husband, Brian's dream it leaves her questioning why he was dreaming about another girl. Sara asks Brian and he claims not to remember anything about girl in a red dress. No one noticed her, just like when Sara is in someone elses dream.
The whole story has many plot twists and leaves me on the edge of my seat. The novel itself is quite long and seems to slowly drag on, leaving readers wishing it would go by faster. But the story is great and original. I would recommend this to anyone looking for a great, romantic story.
(reviewed 5 days after purchase)
Review by: charlotte70 on Jan. 16, 2014 :
From the first page of this book, I could not wait
> to get to the next page. This book is awesome. I
> see a couple that are madly in love with each
> other. They have 4 children. One of them,
> (Grace) was taken in by the family. She had lost
> her mother and father. She caught my heart from
> the beginning.
> I have never believed in dreams coming true, but
> maybe I have changed my mind after reading this
> book.
> I am looking forward to reading all of the Series.
> One thing I did learn from this book, is something
> I should have known all along. LOVE Multiples!
> I recommend this book for everyone to read.
(reviewed 3 days after purchase)