Videos
Meet Viga Boland, author of No Tears For My Father
Meet Viga Boland, the author of NO TEARS FOR MY FATHER, a true story of incest. Find out how long it took to write this book, what prompted her to write it and speak publicly and openly on what is, for many, a taboo topic. Learn why she wrote this book and what she hopes to have achieved by doing so.
Coming out from under Child Sexual Abuse
Part 2 of a series of vlogs regarding the book, NO TEARS FOR MY FATHER, a true story of incest. In this video, the author, Viga Boland, talks about what she has learned from other victims of incest, encourages them to speak up about what has been done to them, and urges the public to get their heads out of the sand & stop denying that incest & child sexual abuse might be happening next door!
BOOK TRAILER: No Tears For My Father
Here's the first of several video book trailers that we hope will interest readers in picking up a copy of NO TEARS FOR MY FATHER, a true story of incest.
About the Series: No Tears for my Father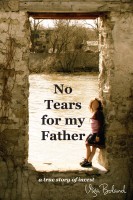 A trilogy that covers over 50 years in the life of the author, from the time she was a victim of incest at the hands of her biological father beginning at age 11, to her life today. The first memoir, "No Tears for my Father" earned a gold medal in the 2014 Readers Favorite Book Awards. This is the most graphic and disturbing section in this memoir of childhood sexual abuse. The second book, "Learning to Love Myself", is a gentler read showing the rebirth and recovery of a woman after sexual abuse but still touching on the long term effects on all family members and generations. The final book, "Voice from an Urn" is the story of the incest but told, this time, through the author's mother's voice. It answers questions readers raised after reading "No Tears for my Father. All three books move along swiftly, but engage readers both emotionally and intellectually. It is not enough to read just one. Only reading all three books is fully satisfying.
Readers of This Book Also Read
Reviews
Review by: happymoments on March 04, 2014 :
If in your lifetime, you're going to pick up and read just one book on child sexual abuse, then this is THE book! From the graphics soul-baring paragraphs, comes an image of a lonely & frightened young girl who daily has wait hand and foot on her tyrant of a father to satisfy his every demand, including those of lust. 

Every chapter is a page-turner, not because it is made up of exaggerated fiction, but because it is unfortunately a true horror story representative of so many other innocent victims' out there. Each painful blow to the head from the father, each bruising lash of his belt, and each act of his sinful lust toward his daughter makes me think of my own precious daughters and their sweet classmates. Furthermore, it angers me to the point of wishing to find all those sick perpetrators out there and castrate everyone of them....Now THAT is powerful writing! Now, I've never been a proponent of violence for violence, but in this case, I doubt that the punishment would even be adequate for the crime -- a crime committed to a shockingly high number of innocent children in every culture, in every time period.

Isn't it time we all do something about this to protect our generations and minimize the demoralization to this degree of lowness? The author's description of violence and of sexual violation is a cry for victims to come out and seek help and is a shout out to raise awareness of child sexual abuse. If prior to reading this heartbreaking memoir, you had been naive about incest, you now know. If you hadn't cared about the topic, you are now moved to take action!
(reviewed 2 days after purchase)
Review by: Kate Walker on Nov. 26, 2013 :
Wow! I sat up late into the night to finish this book. I couldn't tear myself away. 'No Tears For My Father' is an extraordinary story written by an extraordinary woman who not only survived abuse at the hands of a monster, but has written about it with an honesty that often times stops your heart.

Few people could have been as candid as this author. She lays herself bare, making us privy to the physical abuse she endured for thirteen years. But this book is far more than a memoir. The narrative builds like a well-handled work of fiction in which all the main characters develop and grow. At each stage in the drama their motives are revealed or questioned by the author. Most compelling for me were her insights into herself. We observe first-hand her see-sawing emotions, hopes and despair.

A remarkable book. A beacon for others emerging from that same dark, terrible place. And a triumph for the author who has survived, and more.
(reviewed 9 days after purchase)
Review by: Billy Morgan on Nov. 16, 2013 :
I received "No Tears for my Father" at lunchtime and started reading. I became so engrossed in it that I kept reading right through to the end, fourteen hours later. The book is so well written that the reader can clearly imagine what the author saw and felt as the shocking events in her life took place. The story intensifies way beyond the first fifty pages leading to a climax and resolution.
Thirty other readers on goodreads.com have given Viga's book a five star rating and have made similar comments to mine. It is a first class read.
(reviewed the day of purchase)