About the Series: The Last Reptilian War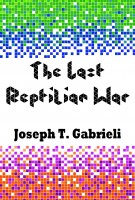 This series focusses on the battles between the human inhabitants of the League of the Four Galaxies and the inhabitants of the Reptilian universe. The league is neither a utopia nor a dystopia, but a possible human technically advanced society.

The Reptilian civilization is advanced technologically but is a dictatorship that uses both reptilians and humans as slaves with no political or civil rights.

The tolerant, pluralistic, basically benevolent and laid back League society was at a disadvantage in a war situation with the cruel, dictatorial and militaristic culture of the Reptilians.

The main characters, whose lives we follow, are in the forefront of the League's confrontation with the Reptilians, both in their military personas as well as in their Pilots Guild personas. This guild is basically a Merchant Marine translated into a space travelling technology. Using instant jump technology they have the freedom to travel rapidly around the 6 galaxy cluster in which we reside.

The main characters, very human and individualistic, have more than their share of troubles coping with the paternalistic and rigid frameworks of this society.