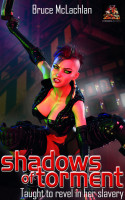 Massively in debt, Tyra is auctioned to the highest bidder to recover the vast sums she owes. Sold as a pleasure slave to a nefarious businessman, she is used to sate his whims as well as the dark unbridled lusts of his aids and favoured supporters.

Kept in the lofty palace of her owner, Tyra finds the locale a place of unrestrained carnal excess, where anyone with the money or connections can indulge even the most depraved passions. Subjected to discipline and punishment, she is taught to revel in her slavery, and finally Tyra begins to find pleasure in her pain.

Then, betrayed, she finds that perhaps her life was not as she thought and that there is more to her enforced captivity than her debts.