About the Series: Tales of a Vampire Hunter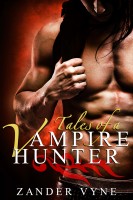 A VAMPIRE HUNTER BREAKING ALL THE RULES

In a time when humans adore imaginary vampires, real ones hide among you, kept in check by gifted vampire hunters like me. Falling for a mysterious vampire girl is crazy, but I've decided I'm making my own rules and I'm starting with her.

A VAMPIRE DESPERATE FOR ANSWERS

I see the dangerous and damaged soul inside the charming vampire hunter, and I cannot resist him. Falling for him could kill me, but I cannot imagine life without him.

STAR-CROSSED LOVERS

Compelled to follow a twisted trail of mystery and deceit, how much will they risk to stay together when the shocking truth of their pasts threatens to destroy everything they thought they knew about vampire hunters and vampires?