About the Series: Beauty Of The Beast Epic Dark Fantasy Action Adventure Sword and Sorcery Novella Series: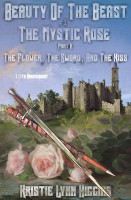 A new approach to the classic fairy tale. The story of Beauty and the Beast with a twist. What if the woman was the one turned into the creature?

A realm of adventure and peril mingled with romance, friendship, and sword and sorcery. Join Pluck in this novella series as she travels through a strange land of danger and intrigue as she finds allies and foes alike in her search to lift her monstrous curse. A story like Beauty and the Beast but with more action and menacing darkness.