About the Series: Night Call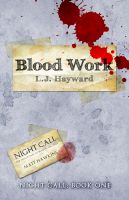 An urban fantasy series.

Night Call follows the adventures of Matt Hawkins--warrior, psychic and vampire-slayer extraordinaire! His sidekick is Mercy Belique, a vampire femme fatale, trained by Matt to hunt her own kind. Together they'll take on just about anything, be it vampire, ghoul or werewolf.

Into their dangerous lives comes Erin McRea--ex-cop, PI and extremely tenacious. If anyone can unravel the tangled web of deceit, lies and misdirection around Matt and Mercy, she can. And she will.
Readers of This Book Also Read
Reviews
Review by: Graeme Rodaughan on April 30, 2017 :
L.J. Heyward has done a great job with the first installment of the Night Call series. An Urban Fantasy thriller with plenty of action and two very well developed protagonists that play off against each other well.

Matt Hawkins, is kinda a paranormal "mr fixit/hitman" for any pesky monsters lurking around the place. He's very willing to take risks, almost suicidally so. After a tussel with vampires, we are introduced to P.I. Erin McRae and her mysterious and unwelcome new client. Her new job - find Matt Hawkins.

There are vampires galore, abominable ghouls, reports of trolls and badass werewolves of unusual origin. Lot's of villains to keep the good guys on their toes, and sometimes on their butts trying to recover before the next attack.

Heyward writes very well, with a strong professional style. The main characters are well drawn and nuanced. The plot is entertaining, and engaging. It's a fun read and I will be recommending this to my friends. I've already downloaded the sequel "Demon Dei" and will be reading it soon.

5 stars - well earned.
(review of free book)
Review by: Louis Arata on Oct. 16, 2015 :
"My name's Matt Hawkins and I kill monsters for a living. Slay and pay."

So begins L.J. Hayward's Blood Work, the first in the Night Call series, an entertaining urban fantasy that features generous doses of noir, street-fighter, vampires, and humor, with touches of Men in Black – there's a whole other world going on right under the populace's noses, but there are special people working the shadows to keep them safe.

Hawkins hunts down supernatural beasties infesting Brisbane. With a nifty array of weaponry (holy water-infused paint balls, a night stick laced with garlic), he takes on the local vampire clans. He is something of a berserker. His impulsively violent temper has landed him some jail time as well as a court-appointed therapist. But it's this berserker quality that serves him well in a fight.

Hawkins' teammate is Mercy, a scrappy vampire (only two years turned), who is the true muscle of the outfit. And this is where Hayward brings a fresh look at vampires. Hers are both Old World and New World creatures, who use their psychic powers to inhibit their prey. While they will drink any type of blood, they do have compatibility issues and will go into a stupor if they drink the wrong type. They also have exceptionally long adolescence, not able to pass as human until they hit fifty years. In fact, the newly turned are like awkward adolescents, not quite mastering their instincts or their powers.

But Mercy is special: despite turning vampire only two years earlier, she has become an effective fighter. Hers is a curious learning curve, as Matt teaches her how to appear human. In her cage, she wears pajamas and watches Will Smith movies, but she lacks the ability to comprehend sarcasm. Out in the street, she is a hunter. Mercy is both self-sufficient and surprisingly vulnerable, and Matt feels increasing parental concern for her safety and welfare.

To complicate matters, there is Erin McRea, a private investigator hired by a mysterious client to hunt him down. As she is pulled into Hawkins' fight with the vampires, she begins to discover all the supernatural goings-on of Brisbane. Not merely vampires but ghouls who act as snitches and dogs who are part werewolf.

While the action is definitely entertaining, it's the personal interactions that give the story nice depth. Matt's and Erin's stories prove parallel: both are taking care of partners whose lives literally depend on them. Erin's husband is dying of cancer, and Matt is the sole caretaker of a tamed vampire. With love comes responsibility, with all its costs.

Hayward knows how to bring backstory into the action. At no point does the plot come to a halt so the reader can get exposition. You learn about these characters as the story unfolds, with tempting bits of history. As Erin pieces together Matt's past, you discover how he came to care for Mercy. And this is great storytelling: you've already witnessed the complexity of their relationship before you learn why they are together.

Hayward's choice to switch between Matt's first-person narration and Erin's third-person POV was a little distracting at first. Overall, a fun read with nice surprises along the way.

The ebook edition had a sample of the second book in the series, Demon Dei. Just enough of a teaser to make me eager to get a copy.
(review of free book)
Review by: Hobbe Noxious on June 01, 2015 :
This one was particularly difficult to review. On the one hand, the grammar, spelling, and flow are all most excellent. The characters feel alive, the world itself feels fully realized, and the combination thereof makes it easy to feel the dirt crunch under your feet as you walk with Matt Hawkins on his journey.

On the other hand.... it just gets so heavy-handed at times, that you get an absolutely overwhelming urge to to roll your eyes. Matt's hero complex, specifically, ends up especially grating by page two hundred-or-so. Instead of being a hard-boiled, super secret paranormal investigator, he slowly turns into an emo kid's wet dream. A male "Mary Sue", basically. Is there a term for that? A tall, dark, overpowered man with a nice car, an almost-mansion, a bit of a temper, and a tragic past.

His interactions with the female characters are especially distracting. **Mild spoiler follows**: How one goes from lusting/obsessing over the lead singer of the local band, to keeping her as a pet, and finally considering her more of a daughter than anything else.... I'm still a bit confused about.

In any case, it's great for Smashwords, but if you're looking for something with more substance, check out Jim Butcher's "Dresden Files".

(The books, not the terrible show.)
(review of free book)
Review by: min1526 on Sep. 23, 2014 :
This is a great story. Not your typical vampire novel.
(review of free book)
Review by: tripoli11 on May 07, 2014 :
This book has been added to my favorites. The characters were well developed, the story was well written with enough detail so I could imagine what was going on and still not be bogged down with unnecessary length. I can't wait for more. I hope for some explanation into what Matt really is in the follow up and why he can do the things he is able to. LJ is the first author I have added on here as a favorite! Great job keep up the good work LJ.
(review of free book)
Review by: Idea Twenty-eighth on April 26, 2014 :
The role Erin McRea served in progressing the narrative was well executed and extremely fun to read. Matthew Hawkins was written elegantly with a depth that leaves the reader relating to the conflict we all face in our daily lives (despite the supernatural setting). Mercy, however fell flat in comparison to Erin and Matthew. Matthew and Erin's supporting cast also had excellent dialogue, none we're one dimensional. Beautiful artistic debut. I will be eagerly awaiting her future works (you cannot give up!).
(review of free book)
Review by: Elizabeth Davies on April 17, 2014 :
I discovered this novel by chance when, low on pennies to spend on reading material, I happened across this free book on Smashwords. And I'm so glad I did.
It's a substantial read, both in terms of length, plot line and characterisation. Written in both the first person and the third POV, which, incidentally, works rather well, the reader is able to engage with both the lead characters.
Set in Australia, which proves to be a welcome change from most of the urban fantasies/paranormal books which are USA based, there is plenty of action, and the story-line is strong and engrossing. The back story is complex and well-developed,adding richness to the plot, there is a hint of romance, and a seriously unusual take on vampires.
I was also pleased to see that there is a climax towards the end, which although is resolved, enough is left unsaid and undone to warrant another book in the series (which I believe may have already been written but not published yet).
This is a solid, well-written debut novel from Hayward and I hope to see more of her work in the future
(review of free book)
Review by: Jesse Davis on April 15, 2014 :
Not really a read for a younger audience. But definitely an attention getter and keeper. Read this in one night, was a pretty good blood moon read.
(review of free book)