About the Series: Tilly and Elmer FlashbackX - Coming of Age in South Branch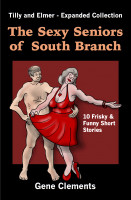 In Coming of Age in South Branch, Tilly and Elmer, sexy sexagenarians from Iowa, reminisce about their passionate, clumsy, delicious, funny (or so it seems in retrospect), and "educational" high school romance. The book describes the delights and disasters experienced by students of do-it-yourself sex education (the only kind available in the Midwest during the early nineteen-sixties). The learning was all hands-on in those days. Of course, this was Tilly and Elmer's favorite subject and they pursued it with scholarly dedication.

Beginning just before their junior year with Elmer's discovery, at the local swimming pool, that Matilda Williams, a girl he had known since second grade, could be a possible candidate for his teenaged erotic fantasies, through two years of attentive study in the arts of love, until they tearfully depart for colleges two thousand miles apart, each was responsible for the best part of the other's education. Their recounting of those days, even though it includes a bit of selective memory and revisionist history here and there, is sweet, nostalgic, funny, and a little dirty. Sometimes more than a little.