About the Series: 9 Meals From Anarchy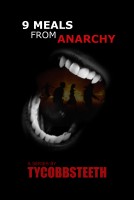 Wide spread drought has gripped the planet and devastated food supplies around the world. Riots started breaking out and chaos is tearing away at the fabric of society.

These are the stories of a few men and their families.

BREAKFAST is SEVERED witnesses David Cameron making his way through a changing world, after the life he knows is ripped away. America is in upheaval in the wake of a global food shortage. He learns, all too quickly, how we are all part of a precariously balanced community and when the balance is lost; society is devoured by the chaos of desperation.

SOCIETY for SUPPER follows Ben Donnelly and his family in their struggle to survive the aftermath of the global food shortage and ultimately the collapse of society.

Buckle-up for the latest installment and follow Ben Donnelly and his family as they try to survive this new hell.
Readers of This Book Also Read
Reviews
Review by: MarkRuggs on Jan. 30, 2018 :
This story has a very real element to it the way terrible things start to happen and the way the characters react to it. It's very plausible and seems accurate when you think about it.
(review of free book)
Review by: ManlyDude on Oct. 21, 2016 :
With apocalypse stories being so popular, you might think this plotline would be done more often. This scared me because it seemed so real. The zombie stuff is scary but deep down you know it's not going to happen, but this (starvation) could actually happen.
(review of free book)
Review by: Mike White on May 08, 2016 :
This story does a great job of demonstrating the fact that the world really does seem to fall apart all at once in a disaster. You can be casually going about your morning routine, and suddenly your entire world changes. The author gives plenty of details about the protagonist, so we have a sense of what kind of life he had before this all happened. It's also good to see a story about food scarcity, as opposed to energy scarcity. They're both problems that could destroy life as we know it.
(review of free book)
Review by: Akash Sharma on Aug. 07, 2015 :
An enjoyable and gripping book. Mr. Ty sure knows how to keep the reader ensnared.
(review of free book)
Review by: WGACA on Aug. 07, 2015 :
The author clearly demonstrates the fact that it is a dog-eat-dog world, but it takes cooperation to survive and succeed. In my humble opinion this short story and its big brother, Society for Supper, have all the elements required to literally own the Thriller & Suspense category here on Smashwords.
(review of free book)
Review by: RASAdmin on July 30, 2015 :
This is a riveting short story that is definitely worth a read.
(review of free book)
Review by: Scott Fletcher on July 30, 2015 :
Society for Supper was a great story, so I brought down a copy of the author's other book, Breakfast is Severed. Although is says it serves as an appetizer for the novel, it stands on its own nicely. This too dumps you into the deep end of action right off the bat, which is where you stay for the whole quick read. I literally did not set this down.
Another two thumbs up and I would definitely read more from this author.
(review of free book)
Review by: ReyRey on June 24, 2015 :
I discovered this author via a Goodreads giveaway for his novel, Society for Supper. I decided to read this short story first and fell in love with his writing. Vivid scenes, three dimensional characters, and breakneck speed adventure. This short read had me enthralled and I read it in one sitting.
Because I normally don't win any Goodreads giveaways, I went ahead and purchased a hard copy of the novel. The novel btw--is amazing.

I'm hooked and waiting for more.
This gets a definite two thumbs up recommendation from me.
(review of free book)
Review by: Lisa Reynolds on June 23, 2015 :
I read this book (in 2014) prior to reading the novel Society for Supper. This is a fantastic shortstory and a great lead-in for the follow-up novel.
I loved it.

Stay Hungry! ;-)
(review of free book)
Review by: CC on June 23, 2015 :
I bought Society for Supper on Amazon a little over a month ago. I REALLY enjoyed it, so when I saw the primer (Breakfast is Severed) here for free, I grabbed it.
Now I wish I had of read it first, but still happy I did. The author packs a lot into a short story here and it's amazing. I really hope there's more!
Recommended.
(review of free book)
Review by: J Rethy on June 22, 2015 :
I love action packed, fast paced, white knuckle thrill rides and this was right up my alley.

The author is a master of page turning storytelling and his evocative writing and descriptive detail takes you right into the heart of the action and the mind and emotions of the characters.

A fantastic intro to the novel Society for Supper.
5 stars all the way.
(review of free book)
Review by: Bibliophilism on May 15, 2015 :
I a copy of this book prior to reading Society for Supper, which I finished last week and it drew me into buying the novel in paperback.
Breakfast is Severed follows the a man through a changing world--created by a worldwide food shortage. The world he knows is being tore apart around him.

TyCobbsTeeth has created a thrilling end time scenario. Breakfast is Severed is a gripping read with believable characters. The reader gets some insight into human behaviour in times of crises. TyCobbsTeeth puts you into some well fleshed out scenes allowing you to feel immersed and keeping your senses on alert. The story is fast-paced, kept me in its grip - I just had to know that 'my' family was all right. I was drawn into the story, nearly too close for comfort. Breakfast is Severed is a great read not only for dystopia thriller fans, but also if you're interested in human behaviour, mysteries, survival dramas or adventures - this will provide you with entertainment and food for thought.

This is a thrilling read; beware - you can't help getting involved.
(review of free book)
Review by: Shelby Smith on March 02, 2015 :
Started reading this as an e-book and was pulled in but I much prefer to read from a real book, today I recieved my copy and absolutely tore through it! A taste of the good and bad in humanity peppered with humor :) great read.
Please pick it up, you won't want to put it down.
- S
(reviewed 7 months after purchase)
Review by: Nadia Noteworthy on Feb. 09, 2015 :
This was the best free book I have ever read. I would recommend this to anyone looking for an action adventure that takes you down a bit of a different vein.
I hope you enjoy it as much as I did.
N
(review of free book)
Review by: RA on Feb. 09, 2015 :
Fives stars of awesomeness. This made me late getting back from lunch but it was worth it.
(review of free book)
Review by: Raw Bacon on Feb. 07, 2015 :
Great story. It pulled me from start to finish.
Compelling and entertaining.
(review of free book)
Review by: Tyrus on Feb. 07, 2015 :
I was in the mood for an action-adventure short story and this one nailed it. Great free read.
Thanks.
(review of free book)
Review by: Jornado on Sep. 19, 2014 :
Wow, fast read, but I really liked it.
Good read!
(review of free book)
Review by: Sam on Sep. 19, 2014 :
I enjoy action, suspense, thriller and mystery books, but this story was a different from a lot of the tired subjects that keep getting rehashed. I found it to be an exciting read and a fresh story. Aces!
(reviewed 21 days after purchase)
Review by: PamCummings on Sep. 08, 2014 :
This is simply an exciting book about the role one man plays during a global disaster. I felt riveted during this short ride and look forward to the novel.
(reviewed the day of purchase)
Review by: Tyler Williams on Sep. 03, 2014 :
Awesome read! To be honest I'm not a big fan of books but this short story painted a vivid and realistic image, where I found myself in the drivers seat from the beginning. I have never finished a book in my entire life but I think that is going to change with the release of "Society for Supper". Very excited.
(reviewed the day of purchase)
Review by: Therooney on Sep. 02, 2014 :
I liked it.
(reviewed the day of purchase)
Review by: Hedge Hog on Aug. 31, 2014 :
While reading this story I was first of the opinion that it was another modern horror fantasy, while accepting the progression of the story from the opening premise of a society-wide food shortage. I sort of saw the end coming - then it hit me. The quote from his high chill poli-sci teacher brought the whole fantasy thing into clarity...we are so close to TyCoobsTeeth's vision of the end.
(reviewed the day of purchase)
Review by: rwjsmith on Aug. 31, 2014 :
This is an action packed short story that grabbed me right at the beginning and didn't let me put it down until it was done. Well told and full of uniquely excellent imagery. Can't wait for "Society for Supper"
(reviewed 2 days after purchase)
Review by: rocketrhonnie on Aug. 31, 2014 :
Loved it! It was suspenseful and unpredictable- can't wait to read Society for Supper to find out what happens next!
(reviewed 2 days after purchase)
Review by: J Patterson on Aug. 30, 2014 :
Used the coupon code and brought this down earlier tonight. It was a quick read. It pulled me in right away and I couldn't put it down. I love books that do that. Waiting on the novel now I guess.
Thanks
(reviewed the day of purchase)
Review by: Shelby Smith on Aug. 30, 2014 :
I loved the authors ability to bring life to the story with his inspiring imagery!
'Any thoughts he had of running in to grab a few things were dashed by the fire's progression. The red sea had now crashed over the shoreline and was washing against the back of his house.'
Every page was burning with intensity! I can't wait to read the novel, the end had me hooked.
(reviewed the day of purchase)
Review by: Sam on Aug. 29, 2014 :
I really liked this one. It pulled me in fairly quickly and compelled me to read on. The story was unpredictable and interesting. Pretty well written story.
(reviewed the day of purchase)
Review by: TyCobbsTeeth on Aug. 29, 2014 :
What can I say ...the story is delicious. It left me wanting more. Bring on SOCIETY for SUPPER.
(reviewed the day of purchase)