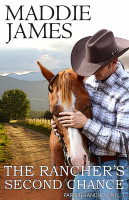 The Parker Ranches, Inc. series is a contemporary western romance series written by award-winning and best-selling romance author Maddie James.

The books in this series are linked by strong family relationships on multiple ranch settings in Montana, South Dakota, Texas, and Kentucky. The Parker and Rankin families—Montana ranchers for generations—anchor the series and provide the foundation for stories to come. As families grow, new ranch partnerships are formed, and the series continues, you'll also eventually meet the South Dakota MacKay, and the Texas/Kentucky Remington families.

Parker Ranches, Inc. books are first and foremost romance stories with happily-ever-after endings. Some are sweet, most are steamy, and a few are erotic. These novels and novellas always feature cowboy heroes and the women who love them—often with complicated personal relationships and external challenges that require time and attention to sort out.