About the Series: Khalsa Warriors: Galactic Alliance Protection Armada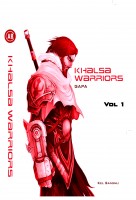 In a distant future, our planet has learned that

it is not alone in the universe. To keep the

peace with our interstellar neighbours, the

Gallactic Alliance Protection Armada (GAPA)

is formed, and it is made of elite super soldiers

bred for the defence of human kind: The

Khalsa Warriors. These super human hybrids

must defend humanity in this galaxy and all

those beyond. Join the Blackjack team as

they enter the firefight that will change things

forever. Join them as they find the missing

piece of their team: Devan.