About the Series: Sha'Di's Gift - Inheritance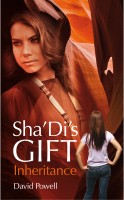 A young Navajo girl sets out on the road to adulthood after the Kinaalda ceremony celebrates her first period. But with her menarche comes the growth the power to see into the minds of people and animals, and thus to exercise a measure of control.

As the news gets out that she has these powers so the modern world, for which she once longed, closes around her menacingly. She finds she is sent on a journey when she must fight for not only her future, but the future of the Navajo people, and the future of many others.

Slowly this burden becomes too great for her to bear and she begins to wish she was, once more, an 'All American Girl'.