About the Series: DIANE D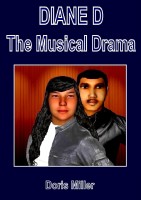 DIANE D The Musical Drama is a sequel to DIANE D In The Headlines and DANGEROUS DANA A Suspense Thriller. It is a suspense, drama, psychological, thriller about a family owned Charity and Entertainment Organization. This story involves 3 generations of the Diaz-Davidson family. The family's Charity and Entertainment Organization performs shows around the country and the world to raise money for charity.

DIANE D The Musical Drama involves fistfights, violent tempers, arrests, superhuman strength, jail time, hospitalizations and mental illness.

The lead character of this story is a young, gorgeous, sexy, attractive Dominican female named Diane Denise Brown as known as Diane D. Diane D is around 24 years old. She was born in the Dominican Republic. She now lives in New York with her family and is married to Michael, a handsome black man from New York.