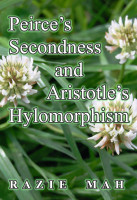 "Hyle" means "matter". "Morphe" means "form". According to Aristotle, matter and form are two real, yet contiguous, elements.
C. S. Peirce defines the category of secondness as two contiguous real elements. The category of secondness is the realm of actuality. Actuality participates in the category-based nested form.
This series builds on two primers.
The first is A Primer on the Category-Based Nested Form.
The second is A Primer on Sensible and Social Construction.
A hypothesis unfolds.
Aristotle's hylomorphism and Peirce's secondness cohere.
The word, "substance", may expand to include "the contiguity between two real elements".
In this definition, Peirce's postmodernism and Aristotle's premodernism begin to speak to one another.
These commentaries are conversations.
As for high-school and college education, the above primers, along with six commentaries, constitutes a short course. Read both the original and the commentary.