About the Series: Passion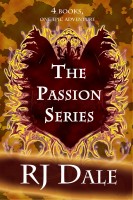 An epic tale of love, lust and danger.

Kera Watson's life is turned upside down when she wakes from a two week coma to discover she has no voice and her best friend died in a mysterious accident, which deepens when she meets Ethan Coffer. The secrecy deepens in a twist of hidden power, love and vampire lore.

Tristan and Stacy will tease and taunt their way through the transition of human life to vampire life. Tristan Coffer has been a vampire for well over a century. He knows the ins and outs of vamp life, but when it comes to Stacy Gilbert. Everything changes. She's lived in Kenneth her whole life, and life was simple, until she met Tristan. A century old vampire.

Blood and Fruit will explore the supernatural life of the Dundine kin.

What could possibly go wrong on a full moon?

For Trey, everything. For Hunter, the unexpected. For Lilly, the unthinkable. For Castiel, the impossible For Ella, the unavoidable. For Lucifer, Freedom. Blood and Fruit tells the tale through six different points of view leading up to the blood moon rise and all that follows the lore of vampire kin is... complicated.

Advisable for matured readers. Adult themed.