About the Series: Desirable Creatures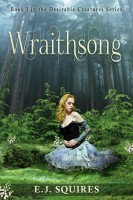 What if you found out at age seventeen that you were a Huldra, a magical, seductive Norse mythological creature with the power to control humans and appropriate parts of their souls? Sonia is just at the brink of discovering this. But little does she know that as she approaches her 18th birthday, she will go through a drastic transformation, leaving her at the mercy of her desires for control, power, and lust.

Suspenseful, passionate and gripping, E. J. Squires's contemporary paranormal YA romance brings you on a highly entertaining adventure that you will want to continue on forever.