About the Series: The Greatest Cape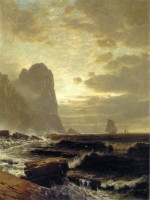 A cross between Treasure Island, The Railway Children and Deliverance, by turns exciting, amusing, charming, alarming, winsome, violent and strange - a rollicking read for adults with a childish love of adventure, and for children who aren't afraid of a few long words. In three volumes The Greatest Cape follows the slightly bewildered Pertinacious Potts and his annoying sister Fenestra as they battle to understand why the world seems to have such a lethal grudge against them. You will meet the fearsome Urethra Grubb, the worst woman in the world, the emphatic Rosella Prettyfoot, who wears big boots and knows how to use them, Simeon Godly-Twist the sinister preacher and a host of other outlandish characters. There are pirates in the harbour, bullies in the classroom and treasure ... er, well ... somewhere or other ...

But cannibals? Surely not. Come on, that's going a bit too far, isn't it?