Videos
Malakh Book Trailer
An angelic novella
About the Series: The Devil's Mansion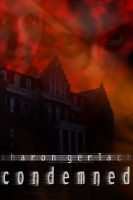 No one knows from where it came.

No one knows when it was built or by whom.

It defies known architecture and is made of unidentifiable stone.

Only those who seek it find it, and those who find it regret it.

Known as the Devil's Mansion, the Evil Castle, and the House of Smoke and Shadows, its promise of adventure, mystery, and danger seduces the unsuspecting – and traps them within.

An ancient evil walks its floors, its sole desire the destruction of mankind – one forsaken soul at a time.
Readers of This Book Also Read
Reviews
Review by: Carol on June 01, 2013 :
This story of angels has an interesting horror thread and has some unexpected twists and turns. An excellent read for the length.
(reviewed 11 months after purchase)
Review by: Christine Williamson on July 06, 2012 : (no rating)
An interesting story. I mostly enjoyed it, though it felt a little weird at times, like something was off. (Though maybe, given some of the twists, that was intended.) I would have liked getting a bit more character development at the beginning, before the action took off.

As its very late, (and I can't put my finger on exactly what bothered me), I'm going to refrain from setting a star rating. Take advantage of the sale to check it out yourself! :)
(reviewed 5 days after purchase)
Review by: Tahlia Newland on July 26, 2011 :
This was a great book and I enjoyed it a lot. It's very short, but that's better than being longer than necessary for the story. I hope to see more from this author.
(reviewed 54 days after purchase)
Review by: Judy Cox on July 21, 2011 :
I really enjoyed this story. I would have liked the story to have been longer so I could have found out more about the characters.
(reviewed 54 days after purchase)
Review by: Angi on July 06, 2011 :
I thoroughly enjoyed Malakh and read it through in a single afternoon. Unlike others, I didn't really "feel" the adventure and mystery of the story. For me, it was more a tale of love lost, regret and emotional survival. Like the world fell away when Russ took Suzanne through his own realm, so the murder mystery fell away as Suzanne's story played out. In the end, I wished Suzanne would remember her journey from the depths of pain and loss through to moving on and living again.
(reviewed 38 days after purchase)
Review by: John Poindexter on June 19, 2011 :
Not my first choice of reading as I usually don't read about angels and vampires, etc.. But, I realize that I should and am glad that I took the time to read this novella. A very good story, congratulations for your first venture as an author.
(reviewed 23 days after purchase)
Review by: BookAngelRV on June 12, 2011 :
Very good book! I enjoyed the storyline although I wish the book was longer. Great job and I will look forward to future books.
(reviewed 11 days after purchase)
Review by: Yllektra V. on May 31, 2011 :
Malakh by Sharon Gerlach is a compelling read.
Her portrayal of Angels reminded me a little of Nalini Singh - and God knows I love her Guild Hunter Series.

There was so much to love about this book. Despite its shortness, you could actually get a feel of the characters and care for them.
Suzanne was a great heroine. I totally sympathized with her overwhelming sorrow over the loss of her angelic lover, because like she says in the book, who could really set eyes on such a creature of immense beauty and fall in love?

The pace was quite good and the adventure part was also satisfying. Although, I have to admit I realized who was the killer halfway through the story, it still made an awesome read.
(reviewed the day of purchase)
Review by: Lisa Maisano on May 02, 2011 :
A wonderful read! Caught my attention and kept it entertained to the very end. Kudos to Ms Gerlach. I am bookmarking this author for future releases!
(reviewed 24 days after purchase)
Review by: Kait Nolan on April 23, 2011 :
An intriguing debut from Gerlach that will keep you guessing until the final page. I look forward to seeing more from her!
(reviewed 4 days after purchase)
Review by: Lauralynn Elliott on April 16, 2011 :
I really loved this novella. For the first half of the book, I thought I was going to give it four stars (which is still really good!) but by the time I was into the second half, it was definitely a five star book. Usually with stories about angels, it's kind of hit and miss for me. This novella was a hit. It was creative, well written, and well edited. The author did a great job entertaining me!
(reviewed 4 days after purchase)