About the Series: Cathy and Janice Bedtime Stories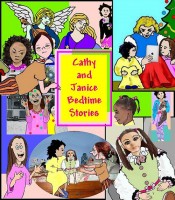 Listen up, baby sitters and parents. Cathy and Janice Bedtime Stories (13 books) are meant to be read by adults to the children. Preteen readers can also enjoy them too. The books are a collection of stories the author once related to his children and grandchildren.

Joe Pegasus spun all kinds of bedtime stories to get his kids to yawn and go to sleep. The family favorites were about two sisters: A nine-year-old named Cathy and her four-year-old sister Janice. The two sisters discover adventures right at home and in their own back yard. Little lessons are learned about life and the world. Each book introduces an adult word into the story. Colorful drawings carry the stories. All the books are designed to satisfy, instruct and lull children from age 6 through 12 into a good night's sleep. Kids and adults of all ages can find the series fun and educational as well.