About the Series: The Adventures of Emily Pilcher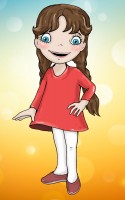 The adventures of Emily Pilcher, a girl with a conscience who always does the right thing!

Join her on her adventures as she teams up with a host of colorful characters, including her bumbling parents, the hapless Mr and Mrs Pilcher, who are always getting into a fix! Miss Yorktown and the newfangled AutoManagement, Feeding, Cleaning and Veterinary Console! ™ Bertha, the rampaging rhinoceros from east Africa. Dr Aruna and his niece Zanta, Captain Fernandez of the White Star, Binda, Zuma and Sultan, the orphan elephants and Kimbar the solitary leopard.

Along the way we travel by land, sea and air - from the fields of the English countryside to the great plains of Africa; join Emily as she encounters nobbled game show hosts, cheating contestants, the mysterious 'whisperer', poachers, vagabonds and scoundrels!

Wacky fun-filled, kids adventures, full of good humor, colorful characters, monkey's bottoms and rampaging animals!