About the Series: Dancing in the Rain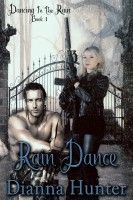 Dana Evans, has reached that point in her life that is a time of endings and a time of renewal. It seems to her that all of her life has been like one big dance in the rain—a constant hustle to dodge the less than pleasant things life was throwing at her and a hunt to find that single ray of sunshine.

Tormented by nightmares and waking dreams Dana finally surrenders to the summons persistently whispering at the back her mind and returns to her home state of Florida—and walks straight into the welcoming grasp of those who have been waiting for her to answer the call of her blood.

But everything is not sunshine and rainbows. In this new world she has found herself there are much more likely to be dragons, goblins and zombies. As a warrior of the Nautica Guardians she has a duty to all who depend on her. She has lost the love of her life, but she made him a promise and she will find love again—and she's going to have a great time doing it even if it gets her killed.