About the Series: The Lenny E-books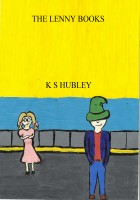 Lenny Meets Bully Bailey stars Bailey, a young girl whose nanny has passed away. She suddenly starts to treat people meanly. Bailey is a good girl, but is struggling on how to deal with her emotions. Her teacher and her friends help her talk to her parents. Bailey and her parents mourn their loss together, and then she returns to fun loving Bailey again.

Lenny Meets Patty Put Down features Patty, who struggles with being over competitive in sports. She starts to treat her friends harshly, which creates conflict between her and the coach/teammates. She calls the Kids Help Phone. They help her with her problem and keeps her call confidential. I obtained permission of the Kid's Help Phone to use their name, and they provided feedback so the experience is more real.

Lenny Meets Donnie Dare Ya features Donnie, who moves to a new school. He tries to make friends by doing mean tricks, and dares Lenny to do mean things to be cool. Lenny and Donnie each learn that being mean does not make them cool, or help them make friends. Being themselves does.

The Super Book is a collection of all three other e-books together.