About the Series: Skyvalley Cozy Mystery Series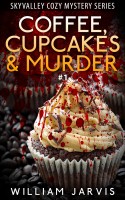 Welcome to Sky Valley, Georgia—a scenic town set in the heart of Rabun County, full of lush trees, greeneries, mountains, and nice people. It is paradise on earth; a place that you'd aspire to come home to. But gasp some of the people really aren't every nice and this seemingly serene place has secrets hidden within.

The Sky Valley Cozy Mystery Box Set is a cozy mystery box set novel that will get you hooked. From finding out who killed Annabeth to knowing her secrets and the secrets of the people around her, join Emmy in this spine-tingling adventure of all sorts and realize that people, good or bad, have their own stories.

Read The Skyvalley Murderous Coffee Crumb Cozy Mystery Box Set now!