About the Series: Brewer Brothers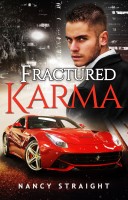 Book 1: For best friends, Candy and Libby, money is tight with hardly enough to cover their living expenses. When they are desperate for grocery money, the girls bet on their pool playing skills to add to their income.

A simple wager on a quiet winter evening has devastating results; a stalker is determined to kill them both. With Libby in the hospital after a vicious attack, and Candy being pursued by the same stalker, she vows to find Libby's attacker.

What she finds is Dave, an old friend with a secret past filled with misfortune. Will Dave's past provide the answer to all of Candy's problems or will it become Candy's worst nightmare realized?

Book 2: Mark believes he is alone in the world. Rejected by his parents as a child, he spent his childhood bouncing from one foster home to another. The loss of his beloved little brother, Davey, makes him believe he has nothing left to live for. Mark finds himself on a destructive path after agreeing to help a person from his childhood.

Can Mark escape the life he set in motion seven years ago and allow Libby into his life, or is his karma fractured permanently?