About the Series: The Claudia Seferius Mysteries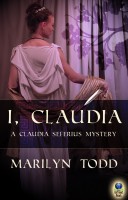 Forced to make her own way in the world, Claudia earned a meager living as a striptease dancer in a tavern (and occasional prostitute). Eventually, she married wealthy wine merchant Gaius Seferius, a businesslike arrangement through which she gained security, in exchange for allowing Gaius to gain a young, beautiful, and lively trophy wife.

A few years after their marriage, Gaius died unexpectedly, leaving his entire estate to Claudia. Unwilling to admit a woman, the Winemakers' Guild offered to buy her out, but she was too proud to accept. Thereafter, the Guild has tried, in all manner of ways, to drive her out of business.

Unwilling to give up, Claudia has fought a never-ending battle to keep the business afloat, including engaging in a host of semi-legal or illegal schemes to cut costs and raise capital.

In the course of her life, she also takes a keen interest in several mysteries, both in Rome and throughout the Empire, applying her quick wit and investigative skills.