About the Series: In Those Days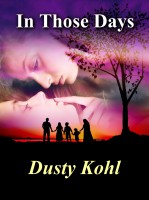 In 1909, Nellie was kidnapped and married at only fourteen years old. She raised five children from a husband who never really did right by her. Yet, she guided her family through World War I, The Great Depression of Dust Bowl Oklahoma, The Okie Migration to California, World War II, Korea, and Viet Nam.

She lived through many an era, from horse and buggy to men walking on the moon. Nellie knew more than any history book could tell, from gunfights, train robberies, outlaw bands, Women Suffrage, and Prohibition to serial killers, government scandals, street gangs, Civil Rights, and the Hippie drug culture. She would pause from telling a story to acknowledge how things changed over the years. People, customs, behavior, science, and even religion, she explained how different these were in those days. Her first-person accounts seldom became preachy. Nellie preferred telling her stories over explaining her opinions. Yet, sometimes she spoke with amazing knowledge of things unexpected from an East Texas country girl with an eighth grade education.

She was a fighter and a survivor. She had to be.