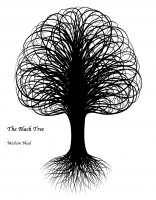 (I think the more that we can do as individuals to create space for people to be authentic- and so often that equates to weird even though I personally think EVERYBODY's weird, on the inside- I think that creating space for that and creating examples of that automatically liberates others, like in that wonderful Marianne WIlliamson quote:

"As we are liberated from our own fear,

Our presence automatically liberates others."-Cass of The Wet Spots)

I began writing to save myself, to explore the world, and to deconstruct everything I could think of.

The name of my integrated works that stem from The Black Tree series is called The Cuil Effect. Why? Because cuil theory is fantastic and absurd and yet still ties together just like life.

What makes cuil theory a perfect tool for my writing is that it is integral to the story line itself. The Black Tree series is the trunk of a tree of interconnected works. Though it may seem like many random events occur in each book there is a method to this madness.