About the Series: "The Babs Books"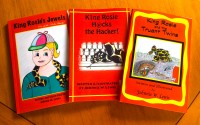 Even though she's a smart cookie for an 11-year-old, Babs can always use the help of others to solve her cases, like her helper, and the one who points her in the right directions, her pet King Snake, named Rosie! Babs and Rosie and their friend, Richard, solve one mystery after another, as her parents and other adults, like her friend, the Sheriff laugh on as they rock the town!

During the course of King Rosie's Jewels, Babs and Rosie run into a jewel robber, a "fake" old lady, a scary man, shredded money, and hidden gold!

In King Rosie Hacks the Hacker!, Babs, Rosie, and Richard run into a prowler, a Karate school, being locked in the attic, and thieves at the coal mine.

During the course of King Rosie and the Truant Twins, Babs, Rosie, and Richard run into a dead body, under-aged drivers who aren't telling everything, and squatters who might be abandoned children! Enough mysteries to keep you laughing and intrigued all the way to the end! With more mysteries to come!!

These are the first three books in "The Babs Books" mystery series of Middle Readers Chapter Books for 9-13 year olds.