About the Series: Fossilized Gods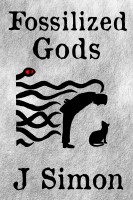 Being a god isn't easy. Oh sure, you can crash the super-exclusive club at that hot new pyramid, but one little drought and your worshippers are suddenly burying you neck-deep in scorpions.

Samantha never expected to wake from her long sleep. When she came to, mortals were riding around inside big metal cows, shooting invisible info-rays across the sky, and doing amazing things with cake frosting. They took cell phones for granted and thought nothing of a university where Physics stood between Inhumanities and Necro. It's up to her to find her place in this strange new world--and possibly save it!