About the Series: Blue Plague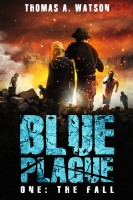 The Preppers were right. And the time is now.

The Blue Plague came roaring out of the Congo and into the United States–and it can't be stopped. The Infected become violently insane and impossibly strong. They're not zombies – that would be too easy. They're something much worse. The Infected are violent and unstoppable, but they can think. They can heal from most wounds. And worst of all–they can reproduce.

Bruce, Debbie, Mike and Nancy have been preparing for the worst for years. There's nothing to do but bug out–and they know exactly where to go.

The Blue Plague series is a survivalist adventure filled with courage and betrayal, tragedy and hope.