About the Series: Keep Your Crowbar Handy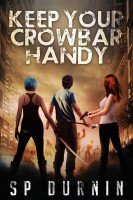 A burned out combat journalist, an adrenaline junkie, a health food store owner and a ditzy pharmacy tech have to hold their own against legions of walking corpses.

Jake O'Connor and his unlikely group of friends need to make tracks before they end up as hors d'oeuvres. If Jake doesn't want to become one of the shambling dead he'll need to keep his wits about him–and his crowbar handy.