About the Series: The Guardian Star's True Mark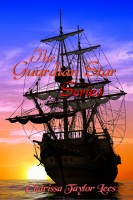 The Guardian Star is the most feared ship on the Ula Ocean. It is a pirate ship captained by the mysterious Black Panther, who preys on other pirates. Follow the Guardian Star's adventures as its captain and his protégé must deal with kidnapping, slavery, vengeful pirates, and the women God placed in their paths, whether they like it or not.

True Mark follows the pirate adventures Tommy, The Black Panther, and Kiliki, the runaway bride, who meet and discover the path God had for them the whole time.

In the sequel to True Mark, True Captain, follow Justin as he takes command of the Guardian Star and tries to find his own path as Dabria complicates matters at every turn.

In Conlan's Choice, Conlan suddenly finds himself engaged to Breanna to keep her safe and must place her where no one can find her.

It's Tristen Time now, and he had a good business going until he rescued the slave girl, Asha. Now, life just got really complicated. Conlan's Choice and Tristen's time are both short stories that take place during the same time frame as True Captain.