About the Series: SWITCH POINT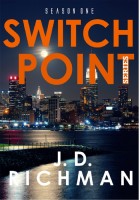 The LiFT. An ancient device of unknown alien origin. But known to be responsible for the phenomenon called Switching. The Life Intervention and Futuristic Teleportation machine (LiFT) provides seamless time travel and teleportation capabilities, vital in subject switching within and between plexus realities. Three centuries had passed since the discovery of the LiFT. A wormhole teleportation gateway. That is until an anomaly in its functioning was detected. After the first cases of erratic LiFT behaviour was detected, a task force unit was set up to help relocate wrongly switched victims back to their home realities.

The series follows the lives of those involved in correcting effects of Reality displacement on switched subjects. Victims of erroneous Switching, and often maladjustments to new and different realities. A covert Interceptor agent Dippa Donaldson, and hidden unresolved issues, ghost from her childhood. Their mission is simple. Find wrongly switched victims, and escort them through the next LiFT teleportation activity. Easier said than done, as this seemingly straightforward action can sometimes be fraught with life threatening danger for all involved.