About the Series: Clint Adams: The Gunsmith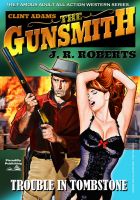 The Gunsmith's background is a little mysterious. Clint Adams was raised in the East and came West at an early age when he discovered an affinity for guns. Not only was he able to take them apart and put them together again, but he could hit anything he targeted, no matter how small or how far away it was. Once he put on a holster, he discovered he could also draw a gun with amazing speed.

Clint lost his best friend, Wild Bill Hickok, when Hickok was shot in the back by the coward Jack McCall. He's never forgotten that, and his one fear is of being shot in the same way. That's why whenever someone tries to bushwhack him he becomes incensed. The Gunsmith is not afraid to take on any man - or woman - and he'll ride until the day he dies ... later rather than sooner, if he has anything to say about it.