About the Series: Royal Sins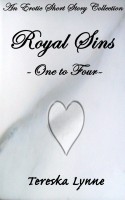 With the one surviving heir a man-child married to a foreign princess, the royal line is in jeopardy. For the seventeen years it will take for a new heir to be born and take the throne, the old king and the princess regent walk a tightrope. One slip will bring war. In public, their honour must be above reproach. In private, duty will require sacrifices of honour, and of body.

The series releases a free short story each week on Monday. A collected ebook is available if you would like to support the author (or read ahead).