About the Series: The Cloud Computing Guide for Non-Techies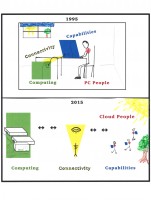 Our stuff is in the cloud, but where is it, really? How do email spammers know so much about our personal preferences and finances? Do we need to be concerned about the security of computerized industrial control networks that run the power grids and water treatment plants we rely upon? Why is it that IT companies seem to pursue extravagant technologies such as artificial intelligence and virtual reality instead of basic ones such as devices for schools?

The only way to get good information about these questions is to venture a look into the unknowns of today's tech world.

These five, short, no-frills stories remove some of the misconceptions surrounding cloud technology. With better information about how stuff works, non-techies can make wiser tech choices and join the ongoing dialogue about the promises and challenges of the coming age.