About the Series: Denver Noles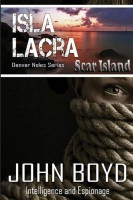 This Navy SEAL and Medal of Honor winner, Denver Noles, decides to leave the Navy after the death of his uncle, Seaman First Class Harry Toliver. After doing so he and a few of his other SEAL buddies head to Mexico in hopes of rescuing the daughter of one of his employees, from his bar and grill, who was kidnapped by Mexico's largest cartel, the Rodriguez Cartel.

The second book in the Denver Noles series by John Boyd takes the reader from the islands and the Florida Keys, Isla Lacra (Scar Island), to Costa Brava, to Cozumel, and around the globe in a race against time. They are full of conflict and twist and turns that leave reader ready to cheer, laugh, or cry. It's also a firsthand look at how tough our Navy SEALs are under the worst of circumstances, even when they have to fight for their survival from a most deadly enemy.