About the Series: The Corrupters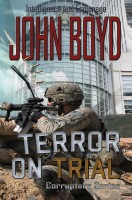 Terror can strike at any moment, without reason or warning. Author John Boyd has once again created a series that takes the reader around the world, to show how U.S. government can be drawn into battle. From a SEAL team being ambushed deep in the mountains of Afghanistan, to the United States President closing Guantanamo Prison and holding Terror Trials on U.S. soil, also the hunt and kill of Osama bin Laden, John then takes you to Iran to stop a regime that has decided to detonate nuclear weapons in the U.S. and Israel.

Each book in The Corrupters Series will have the reader turning the pages, wanting more, as the conflict begins and shows just how powerful our men and women in uniform can be when they work as a team and follow the commander in chief's orders.