About the Series: The Detective Bill Ross Crime Series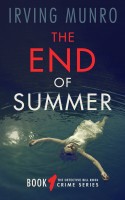 Bill Ross was born in Scotland and was a detective in the London Metropolitan Police (The Met) Major Crimes Division. His nickname in The Met was "sniffer" for his uncanny knack of being able to piece together clues that others had missed. He and his family emigrated to the US in the 90's when he took early retirement from The Met and took the role of head of corporate security for a major software company headquartered in California.

Today, Bill Ross is now retired and living in Austin, Texas where he volunteers as a special officer with the Travis County Police Department cold case unit. His son, Tommy Ross, is a detective with the cold case unit and joined the Travis County Police Department after serving in the Marine Corps. Tommy, Bill and Detective Marie Mason, the third member of the team, are on the trail of killers who may have thought that they had gotten away with their crimes.

The first book in the Bill Ross Crime Series, The End of Summer, was published in May of 2015. Book two, What's Left is Right, will be published in November 2015.
Reviews
Review by: Jhonni Parker on Nov. 09, 2015 :
An interesting storyline, quirky characters, and the fast-paced action makes "The End of Summer" by Irving Munro a very entertaining read. This is the first I've read from this author, but I like his style and look forward to reading more. Enjoyed the 'putting together' of the clues and tracking down the killer… I liked the leads a lot (Bill and Tommy) but all the other characters were described well and are unique in their own right. I did like the author's writing style for the most part, even though there were some grammar and punctuation issues (not entirely uncommon for kindle books). The plot was really original and the action fast paced. This didn't feel like a cut and paste stereotypical procedural thriller. Recommend for police/crime thriller fans. This book was easy to read quickly and the end makes it seem like the story (or series) will continue. Great! Looking forward to more.
(reviewed the day of purchase)
Review by: LaylaM1 on Nov. 08, 2015 :
"The End of Summer" by Irving Munro was an unexpected treat for me. I liked how well-developed the characters were, and the fact that even for a familiar set up(murder mystery whodunit), we don't feel like we've read this story a million times before, as so often is the case when I read books of this genre. I usually know who the murderer is right away, but not here. And I liked the way that Mr. Munro keeps the action going and with just enough descriptions to make you feel like you are really there right in the middle of all the action. It was very easy to read, and I read it in two nights which is pretty fast for me. Could definitely have benefited from some editing/proofreading, but the story is one that I very much enjoyed and was able to overlook the errors. Will be reading the next book in the series very soon ("What's Left is Right") and look forward to seeing even more from this author!
(reviewed the day of purchase)
Review by: Essieh on Nov. 05, 2015 :
warning, once you start reading you won't want to stop! From the opening pages to the final climax, this book is a nonstop rollercoaster ride of thrills, danger, action, and drama. I liked that it wasn't predictable and you can tell that the author really knows his stuff, as the language and actions are very authentic for a convincing police procedural. As far as the plot is concerned I give it five stars easy. But there are some editing issues that although didn't prevent me from enjoying the story any, it seemed to detract from the overall experience. The author shows great passion and talent and can obviously spin a compelling tale. With the help of a good editor it would be a 5 star book for sure, but with the abundance of typos and incorrect punctuation I just can't do it here. Recommend for fans who enjoy a thrilling ride and who aren't picky about the technicalities.
(reviewed the day of purchase)
Review by: MaxGgg on Nov. 05, 2015 :
this book was terrific! Once I started reading I didn't want to stop until I'd finished the whole thing. It pulls you in from the beginning, and I enjoyed the author's narrative voice and style of writing. The interweaving plotlines were well-crafted and not predictable, and I liked the Texas and military influence. The characters were all interesting and well-written, and although there were some grammatical and punctuation errors, it wasn't anything that really bothered me. A fun, entertaining read that will appeal to fans of crime thrillers and murder mysteries. Probably best suited for adults as there is some mature language and content.
(reviewed the day of purchase)
Review by: Brenda Maxwell on Nov. 05, 2015 :
4.5 stars
I read a lot of books in this arena, so this is a genre I'm fairly familiar with. Although "The End of Summer" lacks the depth and finesse of others I've read, nonetheless, it was an engaging novel that held my interest and kept me guessing throughout. I didn't think it was predictable at all (nice bonus) and was actually really surprised at a few things and liked how the storylines came together in a tension-filled, climactic ending. I did notice some editing things, and thought the formatting was a bit wonky at times, but it didn't lessen my enjoyment of the story any. This author crafts an authentic, engrossing novel, and I'm looking forward to reading more from Irving Munro soon.
(reviewed the day of purchase)
Review by: DarleneCupp on Nov. 04, 2015 :
lately I've been in a rut of putting down books and not picking them up again because I lost interest at one point and just never continued. This was definitely not the case with this book, "The End of Summer" by Irving Munro. From the very beginning we are thrust into this intriguing murder-mystery, and the action flowed seamlessly from one page to the next. Loved the witty dialogue and banter. It was unpredictable enough to make me just *have* to see what would happen next. Not formulaic or cookie-cutter at all, even though there are plenty of "familiar elements" necessary for a crime thriller, I thought Mr. Munro did a great job of giving it his own voice. I'm ready to read the next one, "What's Left is Right" next!
(reviewed the day of purchase)