About the Series: The Way to Life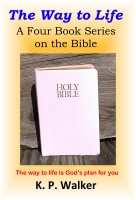 The Way to Life series presents the Bible as though it is one book with 66 chapters. This book series divides the Bible into five practical units, What, How, Who, What Now, and What Next.

Book One, Plan for Life - What, meaning what is God's plan? and How, meaning how is he going to implement it?

Book Two KING Jesus - Who, who is going to implement the plan.

Book Three Life in Christ - What Now, meaning what happens now that the plan has been successful?

Book Four The Living End - What Next, meaning what is going to happen to bring the plan to a successful denouement?

Book One - Old Testament. Book Two – the gospels.

Book Three - the letters. Book Four - Revelation.

It is best to start with Book One and work your way to the end, but each book can stand alone. The main topics are God's amazing Plan for Life, his portrait of Christ in the Old Testament, patterns of Christ, his map showing the path of salvation, the kingdoms of God and Heaven, life in Christ, the mature Christian walk, the tribulation, the Bride and the Harlot, and the living end.