About the Series: The Adventures of Moriarty and Watson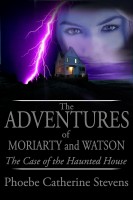 Reporter: Jamie Moriarty

Cameraman: Scott Watson

Program: The Adventures of Moriarty and Watson

Case: The Old Haunted House

Jamie Moriarty has come down in the journalistic world. One vile lie shatters her reputation, and shakes her faith. She's down, down to working at a third-rate cable channel for a silly paranormal investigation show. But she's not out. She's a pro and a job's a job. Even if it's covering the ultimate supernatural cliché. A haunted house.

Scott Watson also knows the taste of betrayal, but is content with his job. Getting good shots and pleasing the loyal fans hooked on spooky stories, be they genuine or fake, pays the bills. He likes things simple. Why does his pretty new partner need to complicate matters by playing detective?

But Moriarty deduces there's something darker lurking in the shadows of the aging rooms. If Watson wants his story, he's going to have to come along as she hunts for the truth.

Because she's not about to let one more life be ruined by a lie.