About the Series: The Melissa Allen Trilogy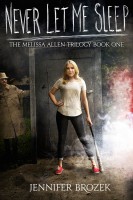 What would you do if you discovered everyone in your house, on your street, and in your town dead? Then discovered you weren't alone and what was out there was hunting you?

Melissa Allen, a troubled teen under house arrest, is the only person left alive in South Dakota. After discovering the mysterious deaths of her guardians and the hearing of the massacre on the news, Melissa realizes that there are monsters out there, pretending to be human, that have begun a door-to-door search for her.

Unable to leave the quarantine zone, and with no help except for DHS agent, David Hood, on the phone, Melissa must figure out what killed everyone and stop it from happening again before the government takes drastic action.

On top of it all, Melissa struggles with the knowledge that she may have murdered her guardians herself in a psychotic fit and the rest of the apocalypse may be happening only inside her mind.