About the Series: Origami St.Claire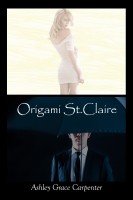 After starting over, disgraced former detective, Origami St.Claire takes on the case of a woman that breaks into his office through the teleporter.

While trying to save her, a World that thrives in the dark of shadows is exposed.

This puts Origami on the front lines of investigating a secret organization; with ties to his past.

Willing to break the rules, Origami does not shy away from the task at hand. And he, his assistant, and an attractive benefactor, still have time to take smaller cases.

Robots, body swapping, vacations with terror, secret bases, weather machines, murderous A.I., and more await you, reader.