About the Series: Degeneration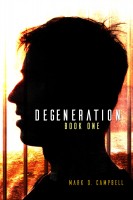 The accidental release of a terrifying biological weapon creates a zombie epidemic and Richard, a mentally-ill man, is caught in the midst of the outbreak. To save his brother, Richard must make his way through the post-apocalyptic landscape of Raleigh, North Carolina.

With the odds stacked against him and his psychiatric medication depleted, can he maintain his fragile sanity long enough to save himself and the brother he loves?