About the Series: The Republic of Selegania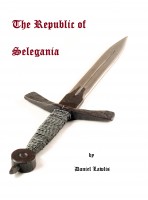 The republic of Selegania's tranquility is placed in jeopardy with the arrival of a wildly popular drug called Smokeless Green, a powerful stimulant which is used by some to increase their productivity and by many others to fuel raucous parties. The senate votes to ban the drug, in spite of a constitutional prohibition against banning any non-poisonous substances.

Soon, corruption becomes rampant, and criminals begin to acquire previously unthinkable levels of wealth, putting them on a collision course with law enforcement and ultimately the military.

Selegania's story is told through the lens of the aristocrats, the criminals, and those caught in between.